Homemade Spaghetti Sauce
Why didn't anyone ever tell me how easy this is? If I had known, I would have been making homemade spaghetti sauce all along!
I adapted this recipe from Comfy in the Kitchen... making only slight changes. Just click the link to read the original recipe. I added oregano, a lot more salt and substituted pasta water for regular water.
Although I usually prefer using fresh herbs, this time I used dried and the sauce still turned out delicious!
Ingredients:
1 package of Angel Hair pasta or Spaghetti Noodles
2 28 ounce cans of Crushed Tomatoes
2 teaspoons chicken bouillon
2 teaspoons parsley
1 teaspoon fresh basil
1 teaspoon oregano
4 teaspoons minced garlic
1 medium onion diced
1/4 cup of Olive Oil
3/4 cup of water reserved from boiling the pasta
3 teaspoons salt (you might want even more though)
1 teaspoon black pepper
Optional: 1 pound lean ground beef browned
Make It:
1. Heat olive oil in a large pot on medium/high heat. Add the diced onions and garlic. Saute until the onions are tender... about five minutes.
2. Add the chicken bouillon, parsley, basil and oregano. Saute another minute. Then add both cans of crushed tomatoes. Stir and let it boil for 15 minutes... stirring frequently.
3. Boil the noodles according to the package directions and reserve 3/4 a cup of the starchy water. (It should be cloudy).
4. Add the reserved water to the sauce and let it boil for 10 more minutes. Stir in salt and pepper. If you wanted to add ground beef to it then add it (already cooked) to the sauce just before serving.
This makes a LOT of sauce! After serving my husband, daughter and myself we still had all of this left over! I am thinking after a night of leftovers I'll be freezing some sauce!
I really loved the flavor of this sauce and will be making it instead of buying it in a jar! On a side note... my daughter figured how to slurp noodles while eating this meal! Haha! She would slurp a noodle into her mouth then laugh hysterically! The dinner table is never boring with kids!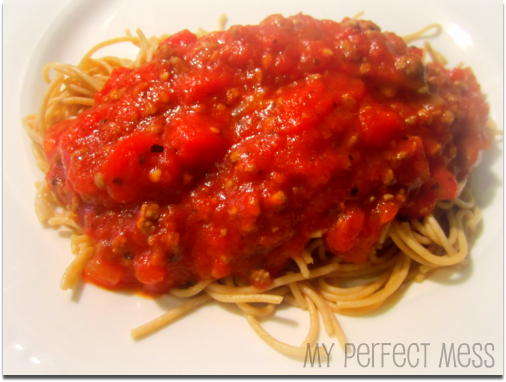 Yum!
-Mandi
Comments
More Like This
Recent Posts
by MrsMandiM
Lean Cuisine believes that women should be valued for their accomplishments as opposed to their weight/appearance. Lean Cuisine's new brand campaign Feed Your PhenomenalTM reflects its new brand purpose: to feed the greatness in every woman. Check out our bloggers' posts and see how they measure their true worth plus learn how you could win a $100.
Read more
Most Popular
on Quick and Easy
Recent Comments
on Quick and Easy