How 5-A-DAY impacts a healthy lifestyle.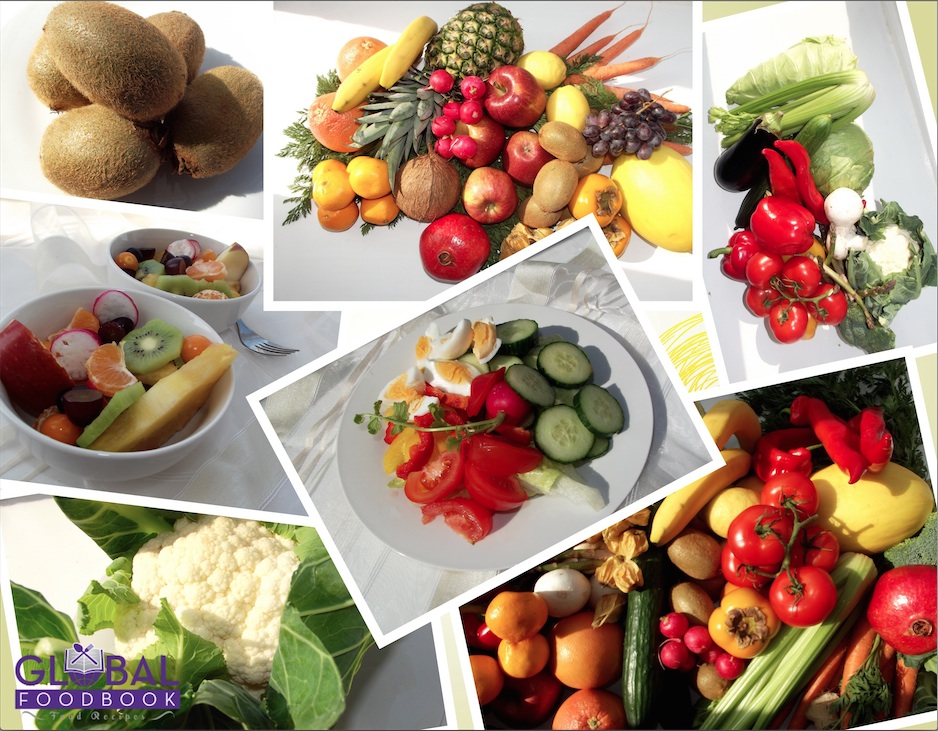 I am so keen and desirous of living a very healthy life. As we all are busy planning our summer holidays to various countries in the world, I went through a couple of recipes I would most likely be eating on holiday and that led me to start thinking about ways of ensuring healthy living. To a larger extent, our present eating lifestyle is becoming increasingly unhealthy, hence an alarming need to find a lasting solution to this menace.
A common adage states thus:
"Health is Wealth".
But lets look at it from another angle, If you show me what you eat, I could probably tell you what your lifespan will be'. Well said, isn't it? But some individuals will greatly criticise my opinion. I was discussing with my colleagues few days ago about the increasing risks of carcinogenic diseases and other health hazards as a result of the incessant processed food consumptions. Most of them stated that majority of these health threats are as a result of the increasing consumption of sugary foods and processed foods. Others attributed this menace to the use of microwaves, food storage in the freezers over a long period of time and use of aluminium products such as wrapping foils.
Well, I did agreed to various opinions raised by my colleagues but I however cited a very interesting scenario to them.
I asked my colleagues a question along these lines, which I will like you to share your opinions with me as well; How come our forefathers appeared to have lived longer with some-worth a very healthy body condition?
Some of my colleagues attributed their longer lifespan to less stress, others suggested nature while some suggested holy lifestyle. Well, to a larger extent, I do agree.
But in my humble opinion, I think that a healthy eating lifestyle could prove to be very vital. I started by telling them that my grandfather turned 100 years this year and he is still basking in good health. They turned out more anxious to learn his secret from me. To the best of my knowledge, having had a close relationship with my grandfather, I was privileged to learn some of his secrets of healthy living. Even though no human being has a right over his/her lifespan, but we can as well work towards perfection and then live the rest to Our Creator.
I grew up to witness my grandfather eating a higher proportion of fruits and vegetables to cooked foods. He has it as a routine that he must eat either fruit or veggies before eating his lunch or dinner. Moreover, fruits serve as his ideal snacks of our present day confectionaries. When I inquired from him his reasons for his eating style, he confided in me that he learnt this habit from his parents and he witnessed them lived longer, thus he is also following their legacy which has seen him very strong till present.
Well, not drifting from my point of discussion, I concluded our discussion by telling my colleagues that eating more fruits and vegetables especially the organic ones are very beneficial to healthy living.
It is of note that many researchers, individuals and publications have addressed the needs of including more of fruits and vegetables in our daily food consumptions. The health benefits can never be over-emphasized. Many countries have introduced various programs which addresses the importance of fruits and vegetables consumption however the main program that stroked my interest is the program introduced by the American and European continents titled 5-A-DAY aimed at encouraging the daily consumption of at least five portions of fruit & vegetables, following a World Health Organisation recommendation.
5 A DAY programme aims to facilitate and enlighten people on the importance of daily intake of Fruits & Vegetables however, very little has been known on how well this strategy has been widely adopted by adults. Apparently, diet very rich in fruit and vegetables is highly recommended for every individual as it aids in reducing the risk of various chronic diseases including coronary heart disease, stroke and some kinds of cancer
Even though it is widely accepted, that eating adequate amount of fruit and vegetables (FVs) greatly lowers the risk of developing diseases, it is presently observed that many adults pay less attention to the health benefits of FVs far below the Department of Health's recommended five portions a day. The World Health Organisation (WHO) recommends that every adult consume at least 400 g of Fruits & Veggies a day however this excludes potatoes and other starchy tubers.
Comments
More Like This
Recent Posts
by globalfoodbook
Help protect your family from the transmission of harmful bacteria and viruses! Use Lysol's Full Bathroom Range to remove soap scum, lime scale, and everyday dirt and grime to leave your bathroom smelling clean and fresh.
Read more
FoodSaver® Reviews & Giveaways
Save time, money and space with the FoodSaver® Vacuum Sealing System! Air is the enemy of freshness and FoodSaver® vacuum sealers remove and lock out air and moisture. It keeps food fresh up to 5x longer! Read our bloggers' posts and know more about FoodSaver® plus get a chance to win $100!