How to Halt the Holiday Party Pig Out
First of all, let me just say this. If you're not worried about pigging out at this weekend's holiday party, then I'm not worried. I don't care. I mean, if your friend makes cookies so delicious you'd rather have one bite of that then an hour in a candlelit room making out with Bradley Cooper, then, by all means, stuff your face. But, if you've been working hard to maintain that girlish figure and don't want a festive fete to turn into a total caloriefest, I have a few tips for you.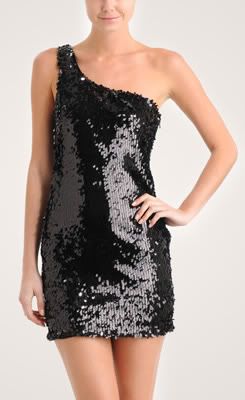 While my first inclination when I'm going to a party featuring delicious dishes is to grab an empire waist dress to hide my soon-to-be full tummy, a smarter idea is to do just the opposite -- choose a clingy outfit (like this adorable one-shoulder sequined dress from Forever 21). You should be comfortable in it to start with, to be sure, but if you know it won't look quite as cute after four helpings of crabcakes and stuffed mushrooms, you'll be more likely to watch what's on your plate.
Another option is to wear a snug, wide belt (like this one -- don't you love it?) or corset -- this won't necessarily show any overeating, but girl, will you ever feel it. Make a deal with yourself that you won't loosen it up (at least, not more than a notch), and you'll have no problem keeping your snacking at bay. You just won't have room!
Last, but not least, go with a holiday-inspired bright red lip. I don't know about you, but I HATE reapplying lipstick that requires a mirror. Hate it with the heat of thousand suns, actually. So, if you have lipstick on that you can't just touch up by feel, you'll be less likely to keep eating (and drinking, which might be a good or bad thing, depending on your perspective).
Got any good tips for not single-handedly finishing off half the buffet table? Share! Because even though I'm going to be using all three of these, my love of cheese and crackers knows no bounds.
Photo courtesy of Forever 21.
Kristen Seymour is a Fashion and BeautyHacks CE who writes about how much she has to run in order to work off all those hors d'oeuvres at Jeez-o-petes.
ADD A COMMENT
Recent Posts
by kgseymour
Most Popular
Simply Beverages™ use never-from-concentrate juices in all of their beverages. And they never add any preservatives, colors or artificial flavors. Read our bloggers' posts and find fun beverage recipes you can serve this summer! Plus get a chance to win $100.
Read more
Excedrin® Migraine relieves sensitivity to light, sensitivity to sound, nausea and relieves pain in just 30 minutes. Read our bloggers' posts as they talk about their experiences with migraine and how they cope with it. Plus get a chance to win $100!
Read more