Being a Mom Totally Boosts Your Self-Esteem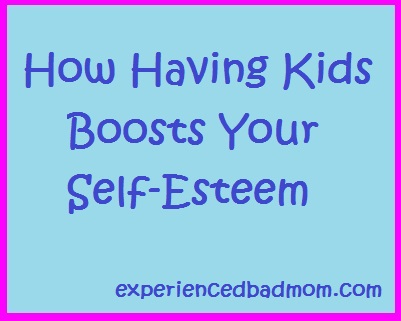 Having kids is great. You get to clean them, feed them, pay for them, and love them for a really long time.
And kids are wonderful at building your self-esteem! Take the following stories, for instance:
I was giving my 9-year-old son a hug and a kiss as he went to bed. Isn't it amazing how kids grow so fast? Just yesterday he was my little baby boy.
Me: Good night, little boy!
Hug. Kiss.
9-year-old: Good night, big mom!
See? He called me BIG. What woman doesn't want that?
And my 6-year-old daughter makes me feel great about myself, too, as illustrated by this:
I was getting dressed the other morning, putting on my cropped jeans that all the cool kids wear.
6-year-old: What are those?
Points.
Me: Capris.
6-year-old: You mean, jeans that used to fit you, but now don't?
Credit: chayshots.
Wow! She sort of backhandedly complimented me on either 1) my fashion sense or 2) being a fast grower.
How do your kids boost your self-esteem?
ADD A COMMENT
Recent Posts
by Experienced Bad Mom
Most Popular
Simply Beverages™ use never-from-concentrate juices in all of their beverages. And they never add any preservatives, colors or artificial flavors. Read our bloggers' posts and find fun beverage recipes you can serve this summer! Plus get a chance to win $100.
Read more
Excedrin® Migraine relieves sensitivity to light, sensitivity to sound, nausea and relieves pain in just 30 minutes. Read our bloggers' posts as they talk about their experiences with migraine and how they cope with it. Plus get a chance to win $100!
Read more