Being a Mom Totally Boosts Your Self-Esteem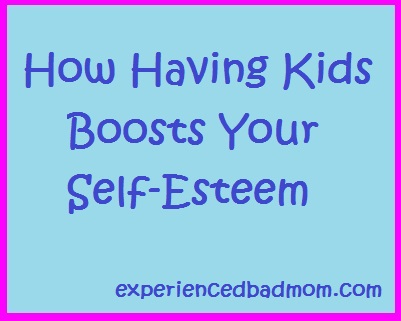 Having kids is great. You get to clean them, feed them, pay for them, and love them for a really long time.
And kids are wonderful at building your self-esteem! Take the following stories, for instance:
I was giving my 9-year-old son a hug and a kiss as he went to bed. Isn't it amazing how kids grow so fast? Just yesterday he was my little baby boy.
Me: Good night, little boy!
Hug. Kiss.
9-year-old: Good night, big mom!
See? He called me BIG. What woman doesn't want that?
And my 6-year-old daughter makes me feel great about myself, too, as illustrated by this:
I was getting dressed the other morning, putting on my cropped jeans that all the cool kids wear.
6-year-old: What are those?
Points.
Me: Capris.
6-year-old: You mean, jeans that used to fit you, but now don't?
Credit: chayshots.
Wow! She sort of backhandedly complimented me on either 1) my fashion sense or 2) being a fast grower.
How do your kids boost your self-esteem?
COMMENTS
Recent Posts
by Experienced Bad Mom
We asked our bloggers to craft some recipes from the different Success® Rice flavors and tell us about it. Check out their ideas and you could win a $100 Visa gift card!
Read more
Lean Pockets have no artificial flavors, a good source of protein & have 100% real cheese. Read our bloggers posts where they will tell you their guilt free experiences with Lean Pockets. Plus get a chance to win $100!
Read more