How I Retired Before I Retired
Syndicated
Last month I spent 40+ hours in a vegan lifestyle coaching academy. A year ago, if someone had suggested I do such a thing, I would have thought them crazy. That was before I walked away from a good-paying, steady job, months before turning 47 years old.
For the past several years my husband and I have bemoaned what we, and many other Americans, have come to realize. We will be working into our seventies and beyond – both out of financial necessity and out of a desire to stay active and involved in our community. We spent a great deal of time talking about what work might look likein our sixties, seventies and maybe even eighties. Me? At 65 or 70 I want to be consulting for a few nonprofit clients. I hope to (still) be teaching nonprofit management courses but would also love to be educating others about plant-based nutrition and living a compassionate lifestyle. I hope to be writing – books, articles, blog posts, and more. Him? His hobby of triathlon coaching is morphing into a business and he wants to coach until the day he dies. We are both excited about our retirement future.
We had a radical idea. What if we retired right now?
I started thinking about how I might use my 20+ years experience working in nonprofit management and higher education administration to focus on projects to which I am passionately committed. I pondered how I could grow my writing and culinary skills to prepare me for spreading the vegan message while also earning an income. My biggest obstacle? Time. The day job was getting in the way.
I quit my job. But not without a strategy.
I came up with a business plan. After re-evaluating our monthly living expenses, and making some long-overdue cuts, I was clear on how much money I needed to contribute to our household. (I should add here that we are child-free so college funds were not a consideration.) This information guided my revenue model. Half of my time is dedicated to nonprofit and education consulting. This leaves the other half of my time to try to earn a little money off of my writing and to become a student of my hobbies – to professionalize my passions.
I came up with an education plan. While a blogging, writing, and culinary hobbyist for the past two years, I am now enrolling in culinary classes and writing courses with intention and, just last month, I completed the Main Street Vegan Academy certification program.
I have a fall-back plan. Listen, this "early retirement" thing might not work out. That is why nonprofit and education consulting is part of my business plan - to keep my fingers on the pulse of my profession. I won't have to worry about the difficulty of "returning" to work full-time in either sector because I will have never really left.
An amazing thing can happen when you take the time to invest in your future, even at the age of 47. I now have a few education and nonprofit consulting clients and the projects motivate and inspire me. I am a certified vegan lifestyle coach, working with individuals and groups to learn to be more compassionate to themselves, and to others.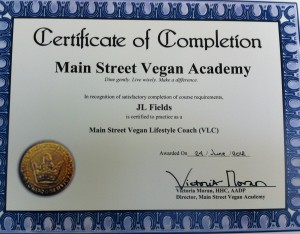 My two years as a hobbyist blogger paid off, as I was invited to collaborate with an esteemed registered dietician and nutritionist on a book, which is due out next summer. It also led to an invitation to write a weekly vegan column online for the food section of my local paper.
Sure, I am working more hours than I will be at 70 or 75, but this joyful period in my career is an investment to ensure that I will spend my working retirement doing exactly what I love and know how to do. I am living my retirement today.
JL Fields, a vegan lifestyle coach, writes the blog JL goes Vegan and writes/edits the community blog Stop Chasing Skinny.
Credit Image: Meanest Indian via Flickr
Follow BlogHer on LinkedIn: http://www.linkedin.com/groups/BlogHer-28615
Related Posts
Recent Posts
by JL Fields
Bridgestone asked 8 bloggers to share personal stories of their own busy, multi-tasking lifestyles and what in their life they most rely on to "keep it all together." Check out their posts and learn how you could win a set of Bridgestone tires to keep you moving.
Read more
Dixie Ultra Moments® Reviews
Celebrate Life's Special Moments with Dixie Ultra Moments®. They're strong enough to hold up to any gathering or party. Go ahead. Celebrate with style and strength!