How To Keep Flimsy Stemware Safe in the Dishwasher
Featured Member Post
I have a few delicate glass pieces that always make me nervous in the dishwasher. Normally, I wash these by hand because I have this fear that they will get knocked over and break…
I don't know what would happen to my dishwasher if a glass broke mid-cycle but I imagine it wouldn't be pleasant.
My other problem is that I tend to be lazy and I don't want to hand wash stuff… that's what a dishwasher is for. (I can't tell you how many times I've had this exact argument with my mother growing up).
I think I saw this tip on Pinterest but I can't be sure. All I know… is that it's brilliant. Someone with a lot more common sense than I have came up with this…
God bless the internet.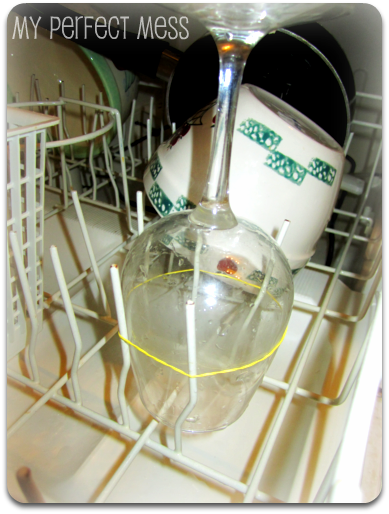 That is a rubber band keeping the glass secure.
Genius!
The rubber band held it firmly in place for the entire cycle and…. I didn't have to hand wash these glasses!
I am all about making life easier… even if it's only not having to hand wash a few glasses.
-Mandi Miller
Comments
More Like This
Recent Posts
by MrsMandiM
Help protect your family from the transmission of harmful bacteria and viruses! Use Lysol's Full Bathroom Range to remove soap scum, lime scale, and everyday dirt and grime to leave your bathroom smelling clean and fresh.
Read more
FoodSaver® Reviews & Giveaways
Save time, money and space with the FoodSaver® Vacuum Sealing System! Air is the enemy of freshness and FoodSaver® vacuum sealers remove and lock out air and moisture. It keeps food fresh up to 5x longer! Read our bloggers' posts and know more about FoodSaver® plus get a chance to win $100!