How To Keep Flimsy Stemware Safe in the Dishwasher
I have a few delicate glass pieces that always make me nervous in the dishwasher. Normally, I wash these by hand because I have this fear that they will get knocked over and break…
I don't know what would happen to my dishwasher if a glass broke mid-cycle but I imagine it wouldn't be pleasant.
My other problem is that I tend to be lazy and I don't want to hand wash stuff… that's what a dishwasher is for. (I can't tell you how many times I've had this exact argument with my mother growing up).
I think I saw this tip on Pinterest but I can't be sure. All I know… is that it's brilliant. Someone with a lot more common sense than I have came up with this…
God bless the internet.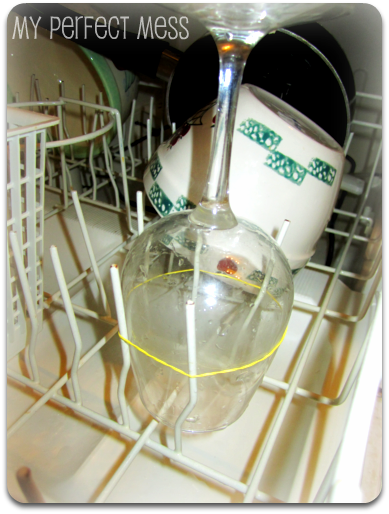 That is a rubber band keeping the glass secure.
Genius!
The rubber band held it firmly in place for the entire cycle and…. I didn't have to hand wash these glasses!
I am all about making life easier… even if it's only not having to hand wash a few glasses.
-Mandi Miller
ADD A COMMENT
Recent Posts
by MrsMandiM
We asked our bloggers to craft some recipes from the different Success® Rice flavors and tell us about it. Check out their ideas and you could win a $100 Visa gift card!
Read more
Lean Pockets have no artificial flavors, a good source of protein & have 100% real cheese. Read our bloggers posts where they will tell you their guilt free experiences with Lean Pockets. Plus get a chance to win $100!
Read more