How to Love 'em, Not Leave 'em
BlogHer Original Post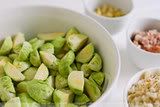 Nicky from the award-winning Munich food blog Delicious Days is making a valiant grown-up attempt to overcome a childhood aversion to Brussels sprouts.
She writes: "Little miniatures of their larger cabbage brothers, it's hard to not love these leafy green cuties - but not quite impossible. They were my childhood's nightmare, an acquired taste coming at costs I wasn't will to pay. With a great deal of persistence, my cunning mum wanted to coax me into liking them by sauteing them with breadcrumbs - a very legit attempt. Anything involving butter-browned breadcrumbs increases the odds tenfold, but I was a hard nut to crack. Somehow I only have bad memories attached to Brussels sprouts, the brash kitchen smell after cooking them, a nasty pot coaster showing cheesy 70s flowers, the usual and inevitable long discussion ("Pleeease, just try a single ONE!") at our kitchen table, they never had a real chance to make it on my shortlist."
Now if Nicky's mum had known my idol Harold McGee, she'd have known that Nicky's discomfort is likely all about a sensitivity to bitterness and the bitterness, my cooks, is all about chemicals, glucosinolates, if you must know. If someone in your family is hesitant, resistant or outright militantly in opposition to Brussels sprouts, know that the trick is to break up the center of the sprouts by cutting them in half and then, to leach out the chemicals, to cook them in a lot of well-salted water. (Forget steaming, forget roasting. And chocolate as a reward for "you don't have to like it but you must try it" rules can't hurt, either.)
So check out the recipe that's turned Nicky into the Love 'Em camp, Brussels Sprouts all over. Leave a comment and be sure to mention you're visiting from Blogher.
Other food bloggers who've seen the Brussels sprouts light ...
CookThink ~ Brussels Sprouts with Chantarelles, Tarragon & Cream
Kalyn's Kitchen ~ Roasted Brussels Sprouts with Balsamic Vinegar, Parmesan & Pine Nuts
Lucullian Delights ~ Oven-Roasted Brussels Sprouts with Zucchini & Red Onion with Pistachios & Balsamic Vinegar
Orangette ~ State of the Sprout
BlogHer food editor Alanna Kellogg collects recipes for Brussels sprouts but is partial to Brussels Sprouts with Pancetta & Garlic and also knows the sister of the woman who won the 1996 Pillsbury Bake-Off with Brussels Sprouts with Apricot Glaze.
Recent Posts
by Alanna Kellogg
Our bloggers include LISTERINE Antiseptic in their regular oral health routine. See why and get a chance to win $100.
Read more