How to Make Fried Rice at Home
BlogHer Original Post
If you like rice, you probably like fried rice, the side-dish standby of Chinese American restaurants, and a great way to use up leftovers if you make it at home. Variations of fried rice are are found in many countries, but certain steps in the recipe are universal. Learn the basics of making fried rice, and you can create endless variations by using whatever ingredients you'd like. I'm certainly not a fried rice expert like some of the Asian bloggers whose recipes I'm featuring in this post, but here are a few things I've learned from making it many times.
Always Start with Cold Cooked Rice
You can find recipes for fried rice all over the internet, as well as in cookbooks from many cuisines, but be suspicious of a recipe that doesn't specify to start with cold rice. If the rice isn't cold, the rice grains will stick together and you'll get clumpy fried rice. By the way, this requirement to start with cold rice is one reason many people make fried rice with leftover rice from Chinese take-out, but you can use any type of cold brown or white rice.
Preheat the Pan
By all means, use a wok to make your fried rice if you have one. If you don't have a wok, use the biggest and heaviest frying pan you have, and preheat the pan so it's very hot when you add the oil. This will help keep the temperature of the pan constant when you add various ingredients.
Choose a Neutral Flavored Oil
I like to use peanut oil for stir-frying, but any type of mild, neutral flavored vegetable oil or canola oil will work for fried rice. Don't use olive oil or other strong-flavored oils. For stir-fry cooking, I like to "season the oil" by frying a few pieces of garlic or ginger for about 30 seconds, and then removing them from the wok, a trick I learned when I took Chinese cooking classes many years ago.
Cook with High Heat
For all types of stir-fry cooking, the food should be cooked quickly using high heat.
Cook Raw Ingredients Separately
If you're using raw meat, seafood, eggs, or vegetables, stir-fry each one quickly until it's not-quite fully cooked and remove from the pan; then combine the ingredients at the end with the cooked rice, before adding flavorings such as soy sauce.
Don't Over-Stir
When she writes about fried rice at Simply Recipes, Jaden from Steamy Kitchen shares the advice from her mom that the rice will not get enough "wok time" if you stir too much during the cooking process. Let the rice cook for a minute or two on one side before you turn it over.
Add Flavorings at the End
I was quite surprised when I went to China that most of the fried rice I ate didn't seem to have soy sauce added, but if you're adding flavorings like soy sauce, fish sauce, oyster sauce, or sesame oil, these things should be added toward the end of the cooking process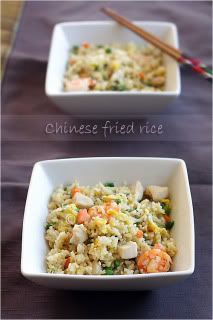 Photo of Chinese Fried Rice
from Rasa Malaysia
Fried rice is inexpensive, easy to adapt to any diet, and quick to make. Whether you're ready to try making fried rice for the first time, or have made it many times at home, here are some recipes that might inspire you.
Fried Rice with Vegetables
~How to Make Vegetable Fried Rice (video) from Show Me the Curry
~Vegetable Fried Rice from Appetite for China
~Onion Fried Rice with Peas from Frugal Cuisine
~Pea and Egg Fried Rice from Greedy Gourmet
~Brown Rice Vegetable Fried Rice from The Perfect Pantry
~Basil Fried Rice from Nook and Pantry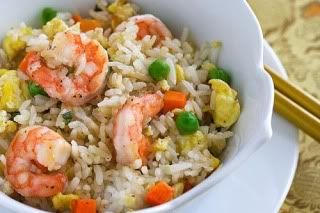 Photo of Shrimp Fried Rice
from Jaden at Simply Recipes
Fried Rice with Seafood
~
Shrimp Fried Rice
from Jaden at Simply Recipes
~
Salmon Fried Rice
from Christine's Recipes
~
Prawn Fried Rice with Cardamom
from The Perfect Pantry
~
Thai Pineapple Fried Rice
from Closet Cooking
~
Nasi Goreng (Indonesian Fried Rice)
from The Perfect Pantry
Fried Rice with Tofu or Tempeh
~Fried Rice with Glazed Tofu from One Hot Stove
~Natto or Tempeh Fried Rice from Just Bento
~Fried Rice with Scallions, Edamame, and Tofu from Eat Me, Delicious
~Fried Rice with Peas and Tofu from Culinary in the Country
Comments
More Like This
Recent Posts
by Kalyn Denny
Help protect your family from the transmission of harmful bacteria and viruses! Use Lysol's Full Bathroom Range to remove soap scum, lime scale, and everyday dirt and grime to leave your bathroom smelling clean and fresh.
Read more
FoodSaver® Reviews & Giveaways
Save time, money and space with the FoodSaver® Vacuum Sealing System! Air is the enemy of freshness and FoodSaver® vacuum sealers remove and lock out air and moisture. It keeps food fresh up to 5x longer! Read our bloggers' posts and know more about FoodSaver® plus get a chance to win $100!