How to Write a Killer About Me Page
One of the most important things you can do when you start a blog is write a killer About Me page. It's the place your readers go to find out more about you and some background on your blog. I have some great tips on page organization and what you should include. So get ready to give your About Me page a makeover...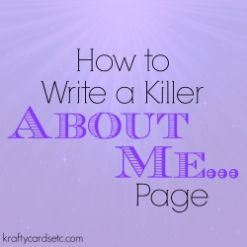 There are tons of posts out there on how to write a killer about me page and they all tell you something different. Today I want to share my About Me page with you and how it all came together.
My About Me page is broke down into 5 sections...
Comments
More Like This
Recent Posts
by maria.bonacci72
From wipes, to bleach to clean up spray, Clorox covers all your clean, sick-free home needs. See why our bloggers use Clorox products in their home plus get a chance to win $100!
Read more
Most Popular
on Blogging & Social Media
Recent Comments
on Blogging & Social Media