Vegan For Life: Dietary to Ethical
A few weeks ago I shared my "vegan conversion" story on James McWilliams's Eating Plants blog. Since then, I have been thinking a lot about my transition from a dietary vegan to an ethical one.
I always give credit to the big three:
Gena Hamshaw of Choosing Raw wrote a Vegan 101 post here on the ethics of veganism and later introduced me to a pig on a farm sanctuary through one of her posts.
Which led to me discovering Woodstock Farm Animal Sanctuary and Clover, my sponsored goat.
Jasmin and Mariann of Our Hen House helped me figure out to move my passion to activism.
These three experiences/animals/people/places/organizations are the reason I say emphatically that I am vegan for life.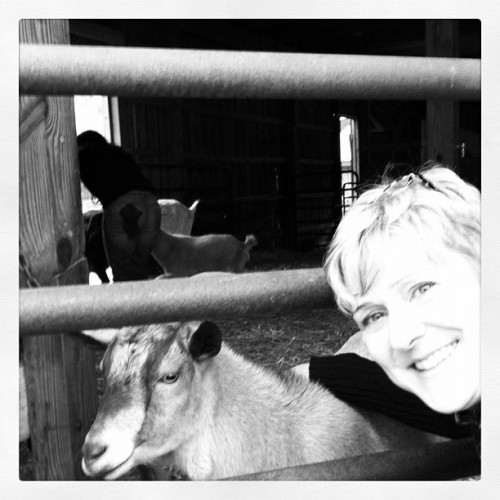 Because once you know something, you can't not know it.
Okay, that's not my line. It's Barbara McDonald's. A reader recently turned me on to McDonald's study: "'Once You Know Something, You Can't Not Know It': An Empirical Look at Becoming Vegan", originally published in Society and Animals, Volume 8, Number 1, 2000. Essentially, the study confirms what I am coming to realize on my own: A vegan can go back to eating cheese far more easily if his or her veganism is not about the animals.
I know how dairy is manufactured in this country. I know that cows are put on rape racks. That they are continuously impregnated. That their own babies never get to nurse because the cow's milk has been "manufactured" for humans to drink. I can't not know this. Cheese just isn't that important.
I think this is why I get so frustrated. [click to continue…]
JL Fields, a vegan lifestyle coach, writes the blog JL goes Vegan and writes/edits the community blog Stop Chasing Skinny.
ADD A COMMENT
Recent Posts
by JL Fields
Most Popular
We asked our bloggers to craft some recipes from the different Success® Rice flavors and tell us about it. Check out their ideas and you could win a $100 Visa gift card!
Read more
Lean Pockets have no artificial flavors, a good source of protein & have 100% real cheese. Read our bloggers posts where they will tell you their guilt free experiences with Lean Pockets. Plus get a chance to win $100!
Read more