I am not a gluten-free vegan
I am not a gluten-free vegan. Though, dear readers, that's not really a surprise, is it? I haven't met a piece of seitan (hello, vital wheat gluten) that I didn't love and nearly all of the bread I make is with wheat or other glutenous flours.
I often receive emails from readers who request that I make more gluten-free recipes and / or to indicate when my recipes are gluten-free. The truth of the matter is that any gluten-free recipes on this blog are accidental! When I first started baking bread I complained about how "short" and dense my loaf of Italian Buckwheat Bread came out – and a reader pointed out a I had made a gluten-free bread.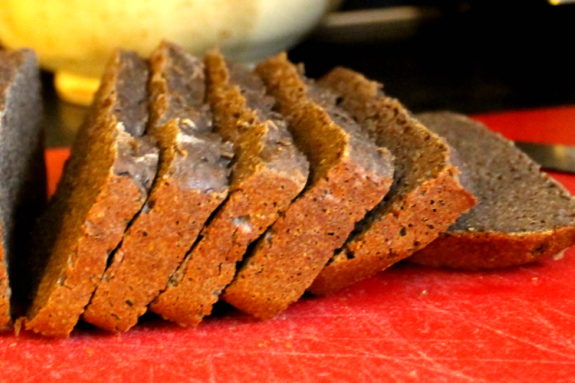 Oops, not on purpose!
In the same why that I explained why so many of my recipes use a rice or pressure cooker, I thought I'd share my thoughts on a gluten-free diet.
Last year I read and reviewed the book Vegan for Life, by Virginia Messina (you know her as Ginny, The Vegan RD) and Jack Norris. Both are registered dietitians. I consider this book my vegan bible. I've learned so much about nutrition and living a healthy, easy, accessible vegan life. With Ginny's permission, I want to share their thoughts on gluten-free diets. [click to continue…]
JL writes the blog JL goes Vegan: Food & Fitness with a side of Kale and is writer/editor of Stop Chasing Skinny.
ADD A COMMENT
Recent Posts
by JL Fields
Most Popular
Simply Beverages™ use never-from-concentrate juices in all of their beverages. And they never add any preservatives, colors or artificial flavors. Read our bloggers' posts and find fun beverage recipes you can serve this summer! Plus get a chance to win $100.
Read more
Excedrin® Migraine relieves sensitivity to light, sensitivity to sound, nausea and relieves pain in just 30 minutes. Read our bloggers' posts as they talk about their experiences with migraine and how they cope with it. Plus get a chance to win $100!
Read more