I enjoyed the honeymoon
I had a horrible time trying to write the after-wedding wrap up post, in case you hadn't noticed. I just wasn't feeling it, ya know? The honeymoon, well that's another story entirely. I totally enjoyed THAT.
When Susan asked for help finding links for a post she was working on called Love & Devices, I didn't have any ideas for her. A couple of days later I realized Jenn's honeymoon is a perfect example of a love in the age of technology kind of story.
I found out that Jenn and Teddy had left for their honeymoon on Sunday because Jenn Loopt an update from Cayce, SC telling her friends where she was. Cool, but also confusing since I had written down that they were heading to the mountains on Monday - not Sunday. Oh well, they changed their mind. Young folks are allowed to do that.
I didn't really expect her (or Teddy) to keep Loopting their honeymoon but I kept checking... and the updates just kept on coming!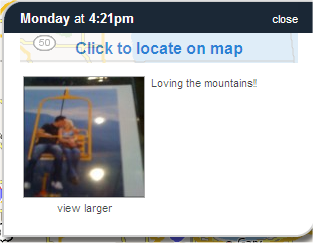 When she called me this afternoon to tell me all about their honeymoon, I knew it all! She was talking about some shop where they bought some engraved plaque thing - saw it already on Loopt. She told me about the indoor skydiving, knew that too. She told me about Hard Rock Cafe and about the sky train thing, oops I'd already seen that on Loopt.
Sure, I got more details over the phone but following along with tiny little thumbnail sized photos and short text messages was fun - almost like being there. (Which isn't generally the way the honeymoon thing is done, but what the heck - we aren't a do it the normal way kind of family.)
-- Denise
Flamingo House Happenings
ADD A COMMENT
Our bloggers chose Lucky Brand for its fit, comfort and unique details and finishes. Read more on the latest styles plus get a chance to win $100.
Read more
Embassy Suites by Hilton is a brand within the Hilton Worldwide portfolio that promises to provide what really matters most to the savvy guest. Our bloggers took a family getaway to experience Embassy Suites by Hilton. See everything they had to say and comment for your chance to win $100!
Read more