I heart fountain drinks.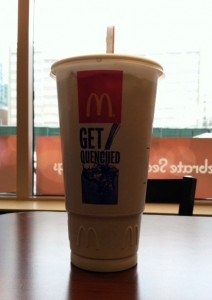 Anyone who has spent time with me knows that I love fountain drinks. Like, love them-love them. As in, nothing will make me happier than getting a Super Big Gulp-sized diet Pepsi/diet Coke. The fact that McDonalds has made the id="mce_marker" large soda usually reserved for the summertime a permanent fixture on its menu has delighted me to no end. That they have Coke Zero makes it my favorite fast food chain (well, it's a toss-up, because I LOVE Chick-fil-A chicken sandwiches but they are closed on Sundays so I have to go with McDonalds on this one).
A trip to Target is not complete without a 32-ouncer in my cart. A road trip isn't a road trip unless I've stopped at a gas station and received a fountain drink for under a dollar (and sometimes less with purchase!) I don't know what it is about fountain drinks. Maybe it's the mixture, or drinking from a straw. I think it's genetic because my aunt M on my mother's side has a similar addiction. If loving fountain drinks is wrong, I don't wanna be right.
Related Posts
More Like This
Bridgestone asked 8 bloggers to share personal stories of their own busy, multi-tasking lifestyles and what in their life they most rely on to "keep it all together." Check out their posts and learn how you could win a set of Bridgestone tires to keep you moving.
Read more