If You Have Ripe Tomatoes and Fresh Basil, It's Time for Caprese Salad
BlogHer Original Post
Caprese salad or Insalata Caprese is famous enough to have its own Wikipedia entry, and serious food lovers wait all year for fresh tomato season so they can make this salad, literally translated as "Salad in the style of Capri." Of course the traditional salad trio of tomatoes, buffalo mozarella, and fresh basil leaves is just a starting point for Caprese Salad lovers.
If you have a garden that's producing tomatoes and fresh basil, in no particular order here are five variations on Caprese Salad, including a couple you may not have thought of.
For those who may not be familiar with it, let's start with
Classic Caprese Salad
from Pam at Sidewalk Shoes. Pam's salad is pictured above, and and although she says she always wonders whether the order should be tomato-basil-mozarella or tomato-mozarella-basil, but this salad looks perfect to me.
Nate and Annie at House of Annie add some brilliant yellow tomatoes to their gorgeous
Heirloom Tomato Caprese Salad
. (pictured above)
The Cookmobile has the brilliant idea of putting Caprese Salad ingredients inside some fresh Ciabatta buns for a
Caprese Salad Sandwich
. (pictured above)
The Jew and the Carrot adds a liberal amount of a Middle Eastern seasoning called Za'atar to her salad, which turns it into
Israeli Caprese Salad
. (pictured above)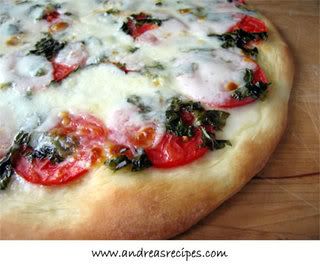 Finally, not technically a salad but definitely having the Caprese Salad vibe, Andrea of Andrea's Recipes uses the tomato, basil, and mozarella combination on pizza and of course it's called
Pizza Caprese
. (pictured above)
If you still have more tomatoes and fresh basil after you've tried these recipes, you can find even more Caprese Salad recipes on Food Blog Search.
Kalyn Denny writes about food and at BlogHer.com and shares her passion for cooking at Kalyn's Kitchen. One of her favorite Caprese Salad variations was created by her brother Rand, who made Caprese Salad with Apricots when Kalyn was visiting her in Venice Beach.
Recent Posts
by Kalyn Denny