Indulging in Childish Enthusiasm Regarding Turning 40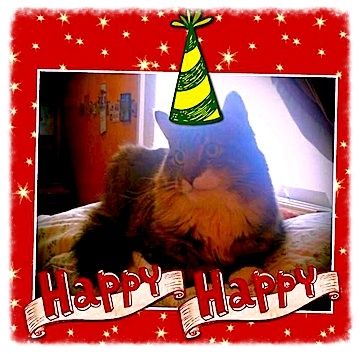 I used to use my birthday to gauge how loved I was by the world.
Would my father remember to send something on time this year? (Sadly, no.)
Would anyone at school remember? (Some, but never enough.)
Would it be another day of crushing disappointment where I weighed everything that my mothers and friends actually did against my perceived expectations and unrealistic hopes? (Yes, most certainly.)
My two moms always did everything they could to give me the best birthdays ever. We had two parties every year - a friend birthday party and an immediate family party. Both had cake and ice cream and presents, and my moms spent a lot of effort trying to make everything nice.
Birthdays peak sometime in late adolescence. Rollerskating parties, sleepovers, parties where you explode chemistry experiments all over your guests' best dresses…all that ends when you enter your teen years. My last greatest birthday party was the year I turned 14.
My Best Birthday Ever
For once, I didn't invite any school friends, instead inviting all my church friends. We went to a park and ran around and swam in our clothes (this was lake Ontario in September, so not remotely close to seasonally appropriate) and I kissed boys and ignored half of my guests - the ones that were sensible enough not to swim in the lake in September in their only dry clothes - and my mothers didn't even yell at me for my outrageously bad behavior, not even when I decided to do a baby's first birthday reenactment and smash my face into my piece of cake. I think the greatest gift she gave me that year was tolerance.
My mother let me pick out my own cake every year which was a big part of building birthday anticipation, and which later I criticized her for, saying that she should have picked it out for me to make it part of the surprise. I started resenting picking out my own cake at about 12 or 13 or whatever age everything my mother did was "not enough" and when my parents became the source of blame for everything that ever went wrong in my life. (External locus of control they call that. Bitchy Daughter Syndrome is probably a more apt name.)
When I was thirteen, I ordered a cake with a giant red lobster on it, because it was the most ridiculous thing I could find in the cake decorating book at Wegmans. When the lady asked me what I wanted my cake to say, I glared at my mother, mentally sending her ESP that she was supposed to be the one doing this, and told the lady, "Happy 47th Wedding Anniversary Joe and Mabel."
My obnoxious answer resulted in the most hysterical cake I have ever had, and my friends all thought it was funny. Well, the half of the guests who swam in the lake with me did. The half of the guests who stayed dry on the beach later told me that they thought I got the cake on sale because no one came to pick it up.
I remember being surprised that people came to the party, and even more surprised that they brought me gifts, because I think I invited them a week before. I was touched by the pretty earrings and shiny paper, but I am sure I didn't acknowledge it properly. As I may have mentioned, this was Hedonistic Brat Day.
I really hadn't expected them to buy me presents, and I was moved and touched in a way that 14 year olds rarely acknowledge. I don't know why, as every other party I had involved presents, but these people weren't my school friends. They were the kids from church, and it was the first time 90% of them had been invited over. I didn't really have school friends that year that I was particularly close to, and I was moving to Alaska in October and didn't want to bother bonding with new friends anyway. Church friends were more like once-a-week family. I saw them every week and we knew each other since we were in diapers, but never invited them over. The expectation was somehow different. Their rising to the occasion touched me in a way I still haven't gotten over.
My Worst Birthday Ever
Comments
More Like This
Recent Posts
by Only-Mama
Help protect your family from the transmission of harmful bacteria and viruses! Use Lysol's Full Bathroom Range to remove soap scum, lime scale, and everyday dirt and grime to leave your bathroom smelling clean and fresh.
Read more
Recent Comments
on Midlife