The Internet - A Bereaved Parent's Worst Nightmare?
The internet. I often find myself wondering how we ever lived without it. And yet, sometimes it is an extremely painful reminder of how things would be if Finley didn't die.
My facebook currently has an ad that says 'Beaming Baby - Give Your Baby the Best Start to Life' and also 'Pampers - Picture a Better Future. Vistaprint do an ad as well for a free personalised calendar - always complete with different photos of incredibly cute babies.
The number of people whose posts I've blocked from my news feed is getting bigger and bigger. People who I care about and want to remain friends with, but who's pregnancy announcements, scan photos, birth announcements and baby photos I can't handle seeing unless I've mentally geared myself up for it. I've blocked so many posts, and yet there's always somebody new with baby news, and so the list just continues to grow.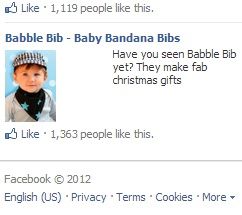 Continue reading at http://dear-finley.blogspot.co.uk/2012/11/the-internet.html
Finley Arthur Sissons 23/03/2012 - 26/03/2012
Comments
More Like This
Recent Posts
by DearFinley
Resolve® Gold In-Wash Stain Remover is so powerful that it removes some stains in just 30 seconds! We asked our bloggers to give the new Resolve® Gold line of products a try and share their best stain removal tips. Check out their blog posts and learn how you can enter to win a $5,000 shopping spree! Plus, weekly prizes valued at $250!
Read more
Recent Comments
on Family