Interview with Melanie Shankle
Jennifer Vido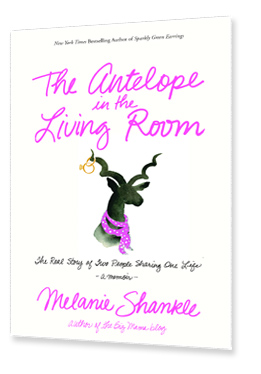 Whether you are newly married or have been in a relationship for decades, it comes as no surprise that marriage takes work. Finding a way to blend two unique personalities under one roof can be challenging for some couples. Yet, when the stars align, there is no better feeling than the comfort of falling asleep in the arms of your soul mate. Being in a faith-based relationship filled with love and respect is truly one of life's most cherished blessings.
This month's Jen's Jewels Melanie Shankle addresses this very topic in her latest release, The Antelope in the Living Room. This popular blogger and New York Times bestselling author of Sparkly Green Earrings is back sharing her hilarious perspective on the ups and downs of marital bliss. Through her tongue-in-cheek wisdom and hilarious advice for surviving difficult times in today's real world, Melanie encourages the reader to embrace the joys and conflicts involved with finding your one true love.
Be sure to keep up-to-date on all the latest news in the publishing business by stopping by www.jennifervido.com, follow me on Facebook jennifervido.com, or on Twitter and Pinterest @JenniferVido. And as always, thanks for making Jen's Jewels the ultimate source for news on the web for today's hottest authors.
Jen: As a New York Times bestselling author, your path to publication is a story in itself. So that my readers may catch a glimpse into the life of the woman behind the words, please briefly share with us your educational and professional background.
Melanie: I graduated from Texas A&M with a degree in Speech Communications. I chose that major because it required the least amount of math classes, but it turned out to be a good choice because I really had no idea what I wanted to be when I grew up. Ultimately, I took a job in financial sales right out of college (I was horrible at it.) and that eventually led me to a career in pharmaceutical sales that lasted for twelve years.
Jen: Please describe for us your "Aha!" moment when you decided to take the plunge and pursue a career as a writer.
Melanie: I don't know that I had one big "Aha!" moment as much as just little moments along the way. The first step was when I started blogging in July of 2006. It was totally on a whim, but I rediscovered a part of myself that had been dormant for a long time. Writing again was the creative outlet I needed and as the blog grew I began to realize that I might have the chance to do it for a living and not just a hobby.
Jen: In 2006, you started the Big Mama Blog. For my readers who may not be familiar with its content, please tell us how it evolved.
Melanie: I originally started the blog with the sole purpose of keeping track of family memories. My daughter Caroline was two at the time and was growing and changing so fast that I wanted a way to keep track of our lives and writing seemed like the natural way to do that. And so the blog is truly just about our everyday life. Or as my dad says, "It's the Seinfeld of blogs." Which means it's a blog about nothing.
Jen: Please take us on a brief tour of your blog highlighting points of interest.
Melanie: There isn't much to highlight. It really is just a journal of our everyday life. However, if you're a fashion lover, then you might enjoy Fashion Friday. Each Friday I post ten things I've found that week in stores and online. I try to make it a good mix of price points and styles.
Jen: In 2013, your first book Sparkly Green Earrings: Catching the Light at Every Turnwas published. How did you arrive at the premise?
Melanie: Sparkly Green Earrings is a memoir of my days of early motherhood and it seemed like the natural choice. The whole reason that I initially began blogging was to record memories of the time in my life when I was raising a toddler and the book was a natural extension of that. My family is the heart of my blog.
Trending Now
More Like This
Sparkling ICE is a bold flavored sparkling water that truly delivers on taste and contains just the right amount of fizz. Read our bloggers' posts and get more details on how you can enter the Flavor Face Off plus find out more about the delicious flavors that Sparkling ICE has to offer.
Read more