Interview with Teen Nonfiction Author Susan Louise Peterson: 'I wanted to have a more independent publishing experience'
Susan Louise Peterson is an author and school psychologist living in Las Vegas, NV. She has taken a twenty year journey working in the tough inner city schools of Las Vegas, Nevada as a teacher and later a school psychologist. Susan has worked with students from pre-kindergarten to high school levels. Working in a large inner city high school she noticed that many teenagers were dealing with communication issues related to their parents, teachers and other adults. Students were given limited information from adults when they asked questions and usually did not understand the 'yes' and 'no' type of responses they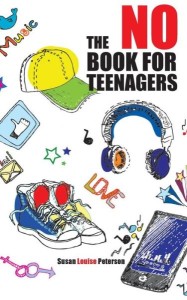 received from adults. In response, Susan Louise Peterson wrote two companion books to help teenagers with this communication dilemma. She is the author of the newly released books entitled THE YES BOOK FOR TEENAGERS and THE NO BOOK FOR TEENAGERS.
Susan is an award winning educator and has won several national awards for improving educational practice. She was named to the Practitioners Hall of Fame for Improvement of Educational Practice from NOVA University.
In addition, Susan is the author of the recently published book IS MY CHILD AUTISTIC OR DELAYED? (Vilnius Press-2013), as well as eight other books in the areas of education, research and child behavior.
You can visit her website at www.susanlouisepeterson.com.
Click here to enter the $25 Amazon Gift Card Giveaway!
Can you tell us about your new book, The No Book for Teenagers?
The No Book for Teenagers helps teens to understand the issues and possible reasons for a 'no' answer or response.
How did you come up with the idea to write your book?
The ideas for the book were twofold. They come from being both a parent of teenagers and then working with teenagers as a school psychologist.
Can you describe your typical writing day?
My writing day is a day of multi-tasking as a parent of teenagers, a school psychologist, a writer and a mom running a hundred errands.
How long did you take to write your book?
I worked on the book on and off over a period of about six months.
How did you get it published?
I wanted to have a more independent publishing experience. I worked with Vilnius Press which is great.
Now's your chance to talk to your readers. What would you like to tell them?
I think this book is great for teenagers, but I also think it would be a good resource for a school library, a teen organization, a club for teens or any foundation that works with teens.
How can we buy your book?
Link to Amazon:

http://www.amazon.com/Book-Teenagers-Susan-Louise-Peterson/dp/1940136075/ref=sr_1_1?s=books&ie=UTF8&qid=1374792422&sr=1-1&keywords=the+no+book+for+teenagers+susan+louise+peterson
How can we find you online?
Comments
More Like This
Recent Posts
by DorothyThompson
From wipes, to bleach to clean up spray, Clorox covers all your clean, sick-free home needs. See why our bloggers use Clorox products in their home plus get a chance to win $100!
Read more
Most Popular
on Entertainment
Recent Comments
on Entertainment