It's Summer Tomato Time -- Or Is It?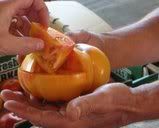 After strawberries and peaches, the fruit -- yes, fruit -- that most defines the summer growing season is the tomato. What's summer without fat slices of fresh tomatoes? Well, let's see, we just might be looking at it. Or NOT.
The news has been spreading over the past few days that restaurants and grocers are pulling fresh tomatoes from plates and shelves because of a salmonellla outbreak. Since April, 145 cases of the Saintpaul salmonella have been reported, with 23 hospitalizations and no deaths, according to the U.S. Food & Drug Administration, as reported by the Wall Street Journal in today's issue. (Wall Street Journal, Grocers and Restaurants Toss Out Tomatoes, June 10, 2008 by Julie Jargon.). Two-thirds of the cases are in Texas and Arizona but 14 other states have reported cases as well. Since the source of the salmonella remains unknown, the companies are acting now, in part thanks to the public's uncertainty about the safety of the food supply. In 2006, many consumers stopped eating leafy greens for months, after a spinach and salmonella scare.
Let's take a look. What do we know?
Should we stop eating all tomatoes? No. Only certain raw tomatoes are suspect. The U.S. Food & Drug Administration (the FDA) advises avoiding raw plum tomatoes, raw Roma tomatoes and round red tomatoes. Cherry and grape tomatoes are fine, so are tomatoes still attached to the vine and canned tomatoes. (Source: FDA press release dated June 7, FDA Warns Consumers Nationwide Not to Eat Certain Types of Raw Red Tomatoes)
Where are the suspect tomatoes coming from? The source of the outbreak isn't yet known but the tomatoes grown in Arkansas, California, Georgia, Hawaii, North Carolina, South Carolina, Tennessee, Texas, Belgium, Canada, the Dominican Republic, Guatemala, Israel, the Netherlands and Puerto Rico have not been linked to the outbreak. (Neither have the tomatoes from your backyard.) Unfortunately, the new Country of Origin Labeling (COOL) doesn't go into affect in the U.S. until September and even then, it requires 'country of origin' not 'state of origin' nor 'field of origin' labeling. (More information about COOL, Why, Exactly, Does My Broccoli Need to Come from China?)
What are the symptoms of salmonella? People who eat food contaminated with salmonella often have fever, diarrhea (which may be bloody), nausea, vomiting, and abdominal pain. The bacterium can enter the bloodstream and causes more severe illness, although this rarely happens. Infection with salmonella also may be more serious or fatal in young children, frail or elderly people, and people with weakened immune systems. (Source: )
What do plum tomatoes and Roma tomatoes look like? Plum tomatoes and Roma tomatoes are small and elongated, about three inches by two inches. (see photo)
Does cooking help? No. The FDA doesn't advise cooking tomatoes that might be at risk of carrying salmonella.
Stay on top of the situation In my book, the FDA gets an A+ for public communications. There's a single page about the current tomato & salmonella outbreak that's updated and includes -- yippee -- an RSS feed.
So what are the food blogs saying?
From Scratch ~ "I can say I've never had a disappointing tomato from Israel or the Netherlands. Unfortunately, markets in my area stopped carrying them long ago because of consumer resistance to their price, about 10 - 30 cents per pound more than Mexican tomatoes. If you can get them from a farmers' market or you own back yard, so much the better." Read the post, Salmonella Now in 16 States
SlashFood ~ "Odd how all of this talk about the fast food industry and eating meat and all that, and what is making people sick is tomatoes." Read the post, You say tomato, McDonald's says salmonella
Serious Eats ~ "Let's hope the FDA finds the culprit before the fast-encroaching tomato season. Tomato slices at McDonald's might taste like crunchy water, but a tomato-free summer would be a small tragedy." Read the post, Salmonella Scare Halts Tomato Sales
The Ethicurean ~ "Thank goodness I know my tomato growers. You can know yours, too." Read the post, Are tomatoes the kickoff to food-illness season?
YumSugar ~ "I don't know about you, but I'm thinking it may just be easier to avoid raw tomatoes for a while. What do you think?" Read the post, Salmonella outbreak now in 16 states
And BlogHers, you, what do you say?
Are you giving up tomatoes? Or still looking foward to summer's best fruit, the tomato?
Are you thinking you'll wait for perfect summer tomatoes from the farmers market?
Are you wondering if it's not too late to grow tomatoes at home?
Are you thinking it's much ado about nothing, that hey, life is risky and what's a little tomato compared to stuff like global warming, skyrocketing food prices, $4 a gallon gasoline, healthcare and education issues, childhood obesity, earthquakes in China, floods in the Midwest, who the Bachelorette's going to knock off this week?
BlogHer food editor Alanna Kellogg just might put in a tomato plant or two this week but loves tomatoes so much she keeps a special list of recipes for perfect summer tomatoes.
ADD A COMMENT
Recent Posts
by Alanna Kellogg
Most Popular
Our bloggers chose Lucky Brand for its fit, comfort and unique details and finishes. Read more on the latest styles plus get a chance to win $100.
Read more
Embassy Suites by Hilton is a brand within the Hilton Worldwide portfolio that promises to provide what really matters most to the savvy guest. Our bloggers took a family getaway to experience Embassy Suites by Hilton. See everything they had to say and comment for your chance to win $100!
Read more