Jet-Setter Beauty: An All-Encompassing In-Flight Survival Kit
{by} Sasha | Crows' Feet, Cupcakes, and Cellulite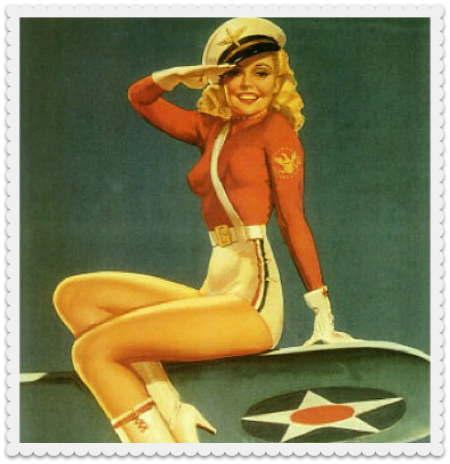 Let's face it…travel, whether an overnight jaunt or long-distance trek, can leave us feeling unfresh, unprepared, and unpretty (a typical traveling trifecta). My latest travel savior? Go-Girl Fashion Fixes Mini In-Flight Kit! Think of it as a MacGyver-like kit that has all your traveling needs covered (and then some). Prepare for take off, travel mavens. Here's the globe-trotting scoop: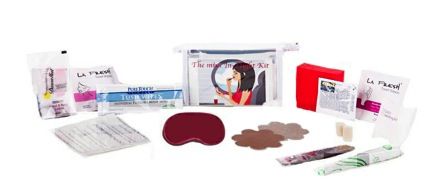 The beauty 411: This uber smart 21 piece In-Flight Kit (which comes in an adorable PVC zip-top tote) includes a sleep/eye mask, ear plugs, a sewing kit, loose buttons, safety pins, a tampon, an Advil packet, cotton balls, a deodorant towelette, a hand & body lotion packet, makeup remover, a comb, and a handful of other travel necessities. (And did we mention the packaging is super sassy?)
Why you'll love it: This genius kit takes in-flight preparation to a whole new level (pun intended) -- whether catching up on your beauty ZZZs, drowning out the noisy passenger two rows behind you, freshening up post-flight, or handling those unexpected beauty snafus. Now your only concern will be making certain the airline stewardess doesn't forget the lime in your Vodka Tonic. The other kits offered include Mini Pageant Kit, Mini Sorority Girl Kit, and Mini Bride & Bridesmaid's Kit. (The Mini Pageant Kit totally makes us think of TLC's oh-so-entertaining Toddlers & Tiaras.)
So when you're sitting next to Mr. Hottie McHottie on that long-haul flight, aviation mavens, now you'll be fresh (and prepared) for every scenario. You're welcome!
You can find these clever mini survival kits on Go-Girl Fashion Fixes' website. Happy traveling....
For more articles like this one, follow this cheeky beauty blog via Twitter, Facebook, and newsletter!
Recent Posts
by BeautyBlogger
Most Popular
We asked our bloggers to craft some recipes from the different Success® Rice flavors and tell us about it. Check out their ideas and you could win a $100 Visa gift card!
Read more
Lean Pockets have no artificial flavors, a good source of protein & have 100% real cheese. Read our bloggers posts where they will tell you their guilt free experiences with Lean Pockets. Plus get a chance to win $100!
Read more