JL goes WFAS (Woodstock Farm Animal Sanctuary)
Friends, I am really, really excited to share some news! I have been invited to serve on the board of directors of the Woodstock Farm Animal Sanctuary!
A little background.
I transitioned from a vegetarian to a vegan diet nearly two years ago. I went vegetarian for a goat in 2002; I went vegan for diet seven years later. As I embraced a vegan diet I learned more about how animals are commodified –horribly, inhumanely so– and I began to make a broader connection to my veganism.
It isn't just about kale.
Last spring my friend Gena blogged about her trip to a farm animal sanctuary outside of D.C. Her post reminded me that there was a farm animal sanctuary in upstate New York, not far from my home. I googled and found Woodstock Farm Animal Sanctuary. I browsed the WFAS site and noticed a section on goats. I couldn't help but think of that goat in Kenya that I met in 2002. I clicked through and suddenly I was watching this video.
At the bottom of the page I read "Click Here to Sponsor this Animal." I did. In that moment, having never set foot on the farm, I was a donor. It felt great.
Two months later I drove up to WFAS to meet Clover. In honor of the occasion, I made my first ever VLOG.
Jenny Brown, co-founder of WFAS, led the tour on the farm (her husband and WFAS co-founder, Doug Abel, helped me find Clover later). I loved Jenny's style immediately. She shared the personal stories of the rescued animals and, more importantly, she spent the hour+ talking about why we should all be eating vegan and living a vegan lifestyle. Why is this important? Because I guarantee you that the majority of people on that tour were not vegan. WFAS rescues animals and provides education and outreach to encourage a vegan lifestyle. They are activists.
I am an activist. I have been all of my life. I have worked in the nonprofit sector, and served on numerous boards, for over twenty years — at a gay and lesbian social service agency; a rape crisis center; an international foundation to end violence against women and girls; a literary arts center; an immigrant's rights agency; a voter education group; and two institutions of higher education. I understand how hard it is to find the human and financial resources necessary to fulfill the mission of a nonprofit. As my husband and I were leaving WFAS on that first visit I told Jenny that I was a professional fundraiser and I would love to help one day.
A few months later I ran into Jenny and Doug at Vida Vegan Con in Portland.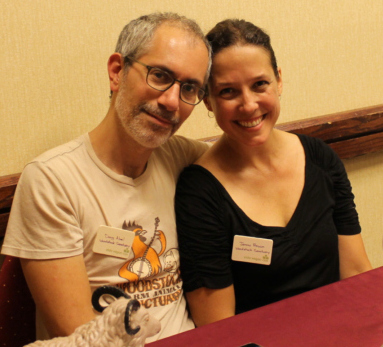 (The "galarama" at Vida Vegan Con was a fundraiser for WFAS!) Jenny told me that tickets would go on sale the following week to the annual Thanksliving event and to purchase them quickly because the event always sells out. I purchased two VIP tickets the day they went on sale, for my omnivore husband and myself, and six weeks later we experienced one of the best nonprofit events ever (and trust me, because of the work I do, he and I have been to many!). The Thanksliving event drew me in even more to the mission and the purpose of WFAS. And I got to see Clover again.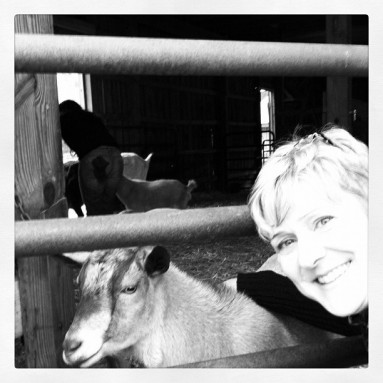 Shortly after the event I reached out to Jenny to let her know that I was ready to volunteer for WFAS. I let her know about my skills and abilities (in addition to raising funds for nonprofits, I also teach courses on nonprofit management at a local university) and to use me however she saw fit.
Last week I had a chance to meet with the dynamic and passionate WFAS board of directors. We talked about their vision, about the animals and about the need to spread the vegan message far and wide.
It's about the animals.
They walked me through the new Guest House on the farm.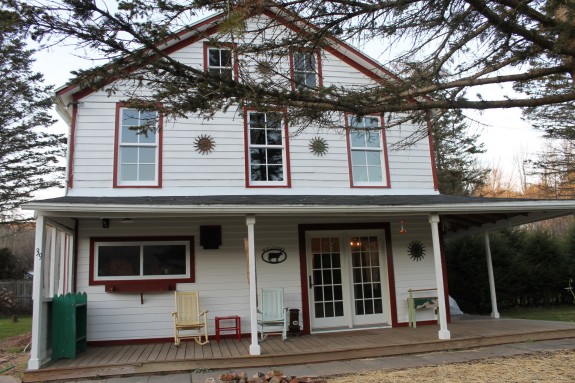 One of the perks of being a WFAS member? Only members can can stay at this fabulous B&B!
The guest rooms are quaint, warm and have lovely views of the countryside.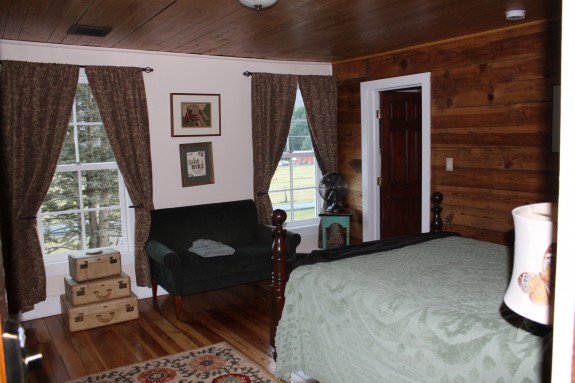 The kitchen and dining room are large, open and you have a wonderful view of the farm.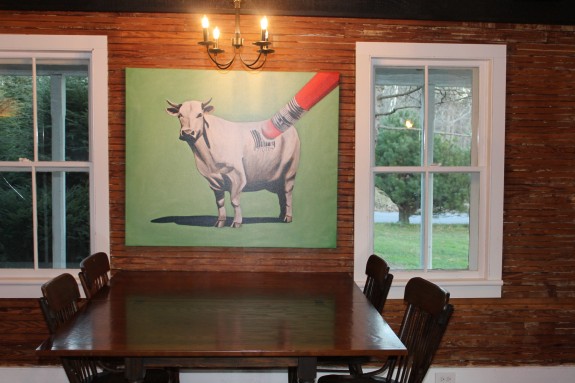 In the kitchen, a gentle reminder:
Because why would you want to eat animal flesh when Kayli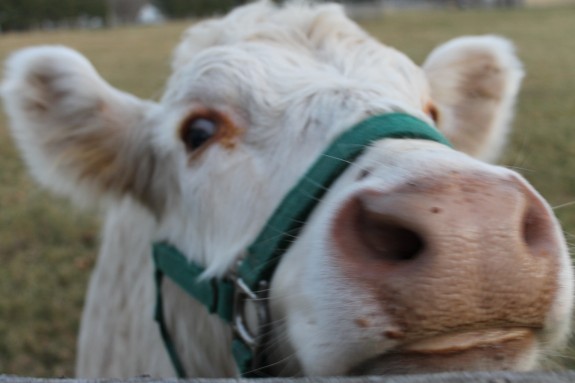 is outside your window?
I ended my visit last weekend by stopping by to say hello to Clover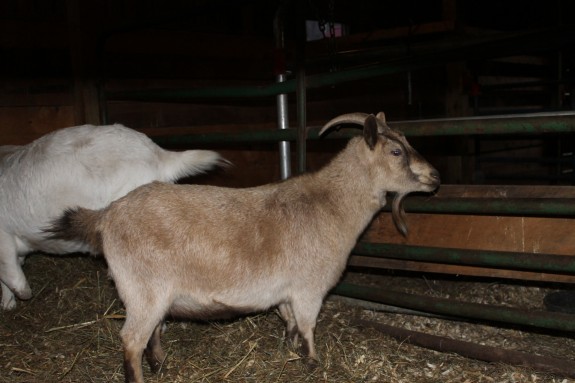 and to scratch her neck.
A few days later I was thrilled to be invited to serve on the WFAS board of directors.
What does this mean for you, my reader? Well, you will get many more Kayli and Clover photos, that's for sure! I also plan to share what I learn about farm animals so that we all can continue to spread the message that animals deserve to be respected and are not for our consumption or for our use.
And I will share opportunities with you to support the work of WFAS.
Right now, this month, a generous donor has pledged id="mce_marker"00,000 to WFAS if it can be matched.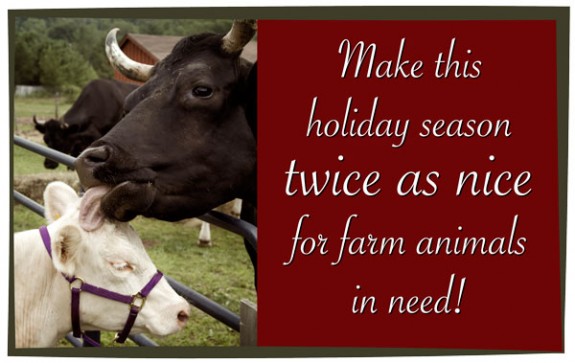 That's right! Whether your gift is $20 or $200…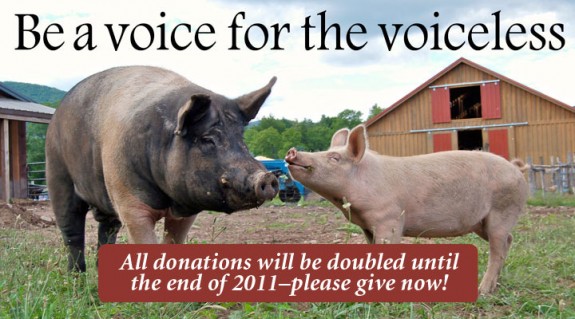 …it will be matched!
Another way to support the animals is to give the gift of sponsorship!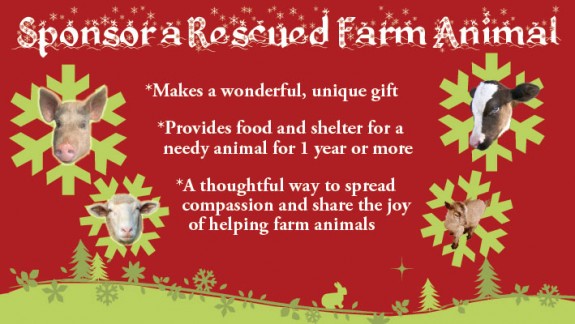 Or, for just $20, you can get this calendar girl!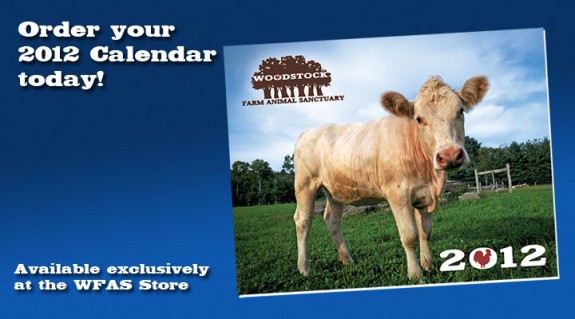 Financial resources are one way to support WFAS but they need human resources (volunteers and interns are a huge help) and donated goods and services.
As you can see, there are many, many ways to support animals: don't eat them; don't wear them; get to know them; care for them; work to make sure that other animals are rescued and allowed to live long, loved lives.
What do you do to support animals?
Have you volunteered at a farm animal sanctuary? I would love to hear about your experience — it will help me in my new role!
JL writes the blog JL goes Vegan: Food & Fitness with a side of Kale and is writer/editor of Stop Chasing Skinny.
Comments
More Like This
Recent Posts
by JL Fields
Save time, money and space with the FoodSaver® Vacuum Sealing System! AND it keeps food fresh up to 5x longer! Read our bloggers' experiences with the FoodSaver® System and see why you should get one for your home. Plus get a chance to win $100 Visa gift card!
Read more
Most Popular
on Work/Life
Recent Comments
on Work/Life