The joy of personal blogging
I thoroughly enjoyed Celeste's post Small Blogs: The Art of the Personal Journal. It reminded me of why I started blogging way back in 1999. It's why I keep the "Small is Beautiful" button on my sidebar. It's why, despite my career as a B2B social media marketing manager, the personal blog continues to pull me stronger than any other social medium. Why?
I started blogging after I moved from New Mexico to Houston after graduating from college. I'd lived on my own for years but it was the first time I'd be more than a few hours away from my family. It was a grand, new adventure that warranted documentation. So I started blogging. I was doing web development at the time and I heard of this new-fangled thing called blogging, so I figured I'd give it a shot. Soon my blog became my default channel to sending all sorts of updates to friends and family (after all, we didn't have Facebook back then). ;) But I never realized how important it was to me until I reconnected with my college roomie. We had pretty much lost touch after I moved, then she moved, then I got a job, then she went to grad school. Life happened. Six years later, we reconnect and she tells me that she always felt like she knew what was happening, how I was doing, because she could read my blog. That, my friends, is the power of this social networking craze. Yes, it's overly hyped and overly commercialized, but it still gives us new and better ways to keep our kindred connections!
So that's how I started blogging and realized how it would always be important to me. Why does the personal blog pull at me more than others? I'm still an avid reader of beading blogs, humor blogs, marketing blogs, and book review blogs. They all have their place. But in the 8th grade I read a book that changed my life. Come to think of it, my 8th grade Literature class was quite the eye-opener for me, though it occurs to me right now that I've never appreciated that (perhaps that's another post all unto itself!)...
"Lament for a Lost Lover" by Philippa Carr was the first book report that I actually enjoyed doing. Thanks to a lovely librarian who suggested the book and my mom's friend, Becky, I created my little diorama of an historical fiction book. For those of you familiar with Philippa Carr, you'll know that was a pen name for Eleanor Hibbert, who also wrote under the name Victoria Holt. "Lament for a Lost Lover" was a wonderfully tame but dramatic historical romance in her Daughters of England series. I enjoyed the book report so much that I returned to the library again and again so I could finish the series. But what I loved about the series is that each story is set down as a diary of the heroine, and keeping a diary becomes a tradition of all the women in their line. So I can credit "Lament for a Lost Lover" with not only helping to spark the voracious reader in me, but also instilling the emotional bond I have with my journaling.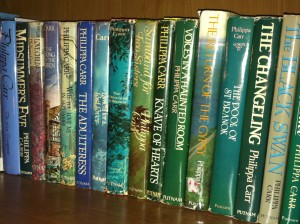 Add the love of and fascination with journaling to my genealogy research, and you'd probably guess that among my most prized possessions are the scrapbooks of my husband's grandmother and my set of rare hardcover Philippa Carr Daughters of England series.
It's a somewhat winding road, but it's why I will always find joy and fulfillment tinkering around here on my personal blog. :)
Visit me at Becca's Cyber Home.
ADD A COMMENT
Recent Posts
by beccataylor
Most Popular
Chateau Ste. Michelle ALWAYS delivers remarkable wine experiences. We asked our bloggers to try Chateau Ste. Michelle wine and share the story behind their perfect sip. Read their reviews plus get a chance to win $100!
Read more
The enamel of baby teeth and new adult teeth is vulnerable to damage. Help protect your child's teeth for years to come by using ProNamel 6-12 Years Toothpaste. Read our bloggers' posts and see you should start your kids with using ProNamel 6-12 Years Toothpaste plus get a chance to win $100!
Read more