Kale Granola! {Two Vegan Recipes}
Featured Member Post
I have been obsessed. Obsessed, I tell you!
Last month I visited Lifethyme Natural Market for the first time and picked up a package of kale granola. What? Uh huh, kale granola. I almost didn't buy it. First I grabbed a bag of BBQ Kale Chips and was being obnoxiously loud and giddy about finding it. One of the women behind the (vegan) bakery counter pointed out the kale granola. I looked at it and, I must admit, couldn't even imagine it so I put the package down. I started to walk away and she said "here, try it" and she opened up a package. Wow, she must have sensed the kale monster that lives deep down inside of me. I tried it – and – WOW! I bought a package (as did several of my friends).
I couldn't wait to try to make my own. Before going on vacation I tore the label off so that I could work with the ingredients to create my version of a kale granola. When I returned, the label, which I had placed near the dehydrator, was gone. I can blame one of three cats, my husband, or the kind woman who cleans my house every two weeks. But blame won't get me anywhere. The label was gone! I Googled to see if anyone had written about the amazing Lifethyme Kale Granola. Nada.
This is what I remembered: kale (natch), coconut, pumpkin seeds. That's it! Ugh. I created a raw Candy-Coated Buckwheat Granola recipe last year and turned to it for guidance.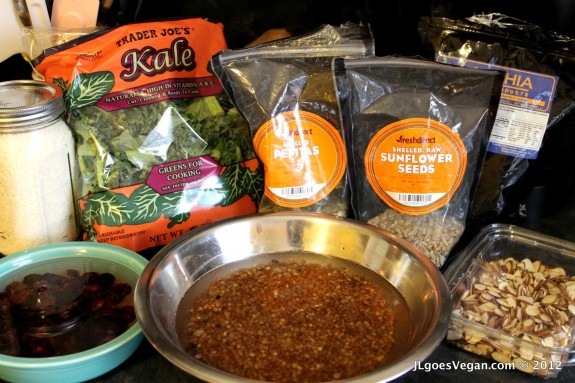 Here's what I came up with on the first try.
Kale & Buckwheat Granola Cereal [click to continue…]
JL writes the blog JL goes Vegan: Food & Fitness with a side of Kale and is writer/editor of Stop Chasing Skinny.
Recent Posts
by JL Fields
100% fruit in a portable, resealable pouch so parents can keep going knowing their kids can enjoy a healthy yet delicious snack whenever, wherever. See why our bloggers choose GoGo squeeZ and why their kids love the delicious taste!
Read more
Green & Black's Organic Chocolate Reviews & Sweepstakes
We placed Green & Black's Organic Chocolate to the test! Check out these delicious chocolate recipes and recreate them for the ones you love using exceptional, fairtrade ingredients. Plus get a chance to win $100 cash equivalent and a chocolate prize pack.