The Kingdom of Heaven Belongs to Such as These
In 2002, I was married, had two small children--ages two and four, lived in a beautiful suburb in northern California, and was a stay-at-home mom. The executive salary of my husband afforded me the luxury to not only support my daughters' development and the upkeep of our home, but also allowed me to delve into my own personal journey of healing from child sexual abuse. It was a tricky time. As my daughters grew into the ages I was when I was abused, I experienced agitation, nagging discomfort, and fear. I did not allow the distress to obstruct my ability to parent, nor did it impede my willingness to be present with my girls. However, I built walls around my true self—the scary stuff that surfaced unexpectedly sending me to my immaculately clean floors, sobbing in the fetal position. These moments were not shared or witnessed by anyone.
In my quest to rid myself of penetrating pain, I contemplated seeking refuge in the Catholic Church. I was raised Catholic, but had sinned so much
I was wrought with guilt
, uncertain if the Church would have me.
I went to my local parish inquiring about receiving Confirmation, the Sacrament I skipped the year my parents got divorced. I joined the adult formation group, completed my lessons, and was Confirmed a short time later. I was fully welcomed and my doubts about acceptance were diminished. To parish leaders, I was the picture of the prodigal daughter, returned to be blessed and filled with grace to carry on the mission of the Church—a picture of perfection: married with children and with money and time to donate.
I wanted to work with children and volunteered as a leader of Faith Formation which charged me with teaching doctrine to middle school aged students. I enjoyed it. The kids were lively and passionate about learning. And they were at the age wherein they had not yet formed staunch opinions. Everything was still open for debate. My time with them was invigorating and challenging. I was feeling fulfilled and full of the Spirit.
Then the sexual abuse scandal in Boston broke in the media. I was horrified. But because I was a survivor of child sexual abuse, I was hopeful. I saw it as a chance for the Church to be an example for their most beloved cause, the family. It was an opportunity to come clean, to turn over known abusers to law enforcement, and to confess their sins of cover-up. It was a pivotal moment. In my opinion, child sexual abuse was an acutely denied and concealed family crisis striking many. I thought, if the Church could set the example of unveiling the secrecy, it would provide a vast amount of people an opportunity to heal.
But no, it would not be. Today, in 2012, the Church still grapples with the law and its victims, attempting to maintain the facade of power and perfection. But I am not alone in seeing through it.
On March 12, 2012, the

New York Times reported

, "In September 2011, human rights lawyers and victims of clergy sexual abuse filed a complaint urging the International Criminal Court in The Hague to investigate and prosecute Pope Benedict and three top Vatican officials for crimes against humanity for what they described as abetting and covering up the rape and sexual assault of children by priests."

On April 5, 2012, the

Washington Post reported

, ". . . Jackson County judge in Kansas City denied several motions to dismiss misdemeanor charges against the Roman Catholic bishop, Robert Finn and his diocese. Finn is the highest-ranking U.S. church official criminally charged with shielding an abusive priest."
The scales of justice are beginning to shift and I ask, "Why does the Church continue to feel as if it is above the law?" Christ appointed Saint Peter to be the first le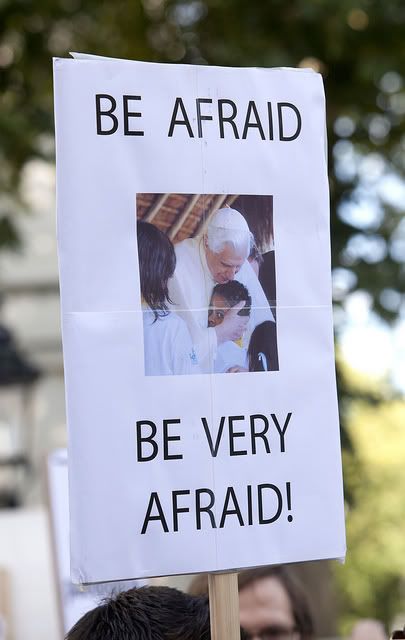 ader of the Church. His successors not only forgot what they were called to do, but greatly departed from Jesus' message to lift up and protect His children. Instead, they protected perpetrators. The harboring of criminals continues today. If Jesus, who upon which the Church was founded, suddenly showed up in the middle of Rome, he would destroy the Vatican, just as he destroyed the temple.
I no longer wish to be part of the Church as I was in 2002. Because I am divorced, I am not fully welcomed and I do not need the help identifying my imperfections. I no longer require the validation to be spiritually full. Even amidst the Church's betrayal of their victims, I was able to continue my own process of healing. I walked to Golgotha and was crucified in order to come to terms with my authentic self. In resurrection, I am not lifted up into Heaven, but am called to walk the road to Calvary again and again. The words from the jeering crowd sting. But I know being a voice for the abused is worth the quake. My greatest pain I have already survived.

Now I say to the Church, be brave. It is not too late to be honest and it only takes courage to come clean. You can be the example the world needs in order to perpetuate truth and healing. If you stay the course, your victims are betrayed just as Jesus was betrayed by his friend the night he was arrested. Child sexual abuse casualties hang upon a cross constructed by you. Your leader, Pope Benedict XVI, should remove the nails that keep them bound, wash their wounds just as Jesus washed the feet of his friends, and then resign. I suggest he then consider a name change—Judas Iscariot.
Kimberly at Sperk*
photo credit: Nick Atkins Photography via photopin cc
ADD A COMMENT
Recent Posts
by Kimberly S.
We asked our bloggers to craft some recipes from the different Success® Rice flavors and tell us about it. Check out their ideas and you could win a $100 Visa gift card!
Read more
Lean Pockets have no artificial flavors, a good source of protein & have 100% real cheese. Read our bloggers posts where they will tell you their guilt free experiences with Lean Pockets. Plus get a chance to win $100!
Read more