Kitchen Cabinets: Paint vs Stain
When designing your kitchen, the cabinet finish selection is one of the big decisions. Question is, "Do you want stained or painted cabinets, or a combination of both?" Both are a great look, it is just a matter of what you are wanting design style wise. Do you prefer the look of wood grain and seeing its natural beauty, or do you prefer the simplistic elegance of painted cabinets?
When selecting your kitchen cabinet finish, the material used depends on the finish selection. For example, paint grade cabinets are often made of a veneered wood or MDF or popular--a material that is smooth and free of knots and large wood grain will absorb the paint evenly. Either choice, paint or stained, you cannot go wrong with. Right now white kitchen cabinets are very popular, but at the end of the day it is what you love that should be reflected in your kitchen.
Kountry Kraft, Traditional Home
Paint Grade Cabinets: Paint grade cabinets can be less expensive than stain grade, depending on how the paint is applied. Many manufactured cabinets provide paint finish themselves that is sprayed & 'baked' on and tends to hold up against wearing better than paint sprayed on by the builder or contractor's paint. Both applications are good and reliable.
designers Beth Martell & Enda Donagher, House Beautiful, photographer Trevor Tondro
Stain Grade Cabinets: Depending on the region, wood species for stained cabinets vary. For instance, in the northeast, maple is a popular cabinet material, while in Texas, alder wood is popular. The selection can increase or decrease the cost--maple cabinets in Houston, can be more expensive than alder. Each type of wood takes a stain differently, due to the inherent color and graining of the wood, so make sure you have a sample made using the wood species for you kitchen cabinets. Also, the wood graining needs to be taken into consideration. Do you like the way the wood grain flows?
designer Christopher Peacock, House Beautiful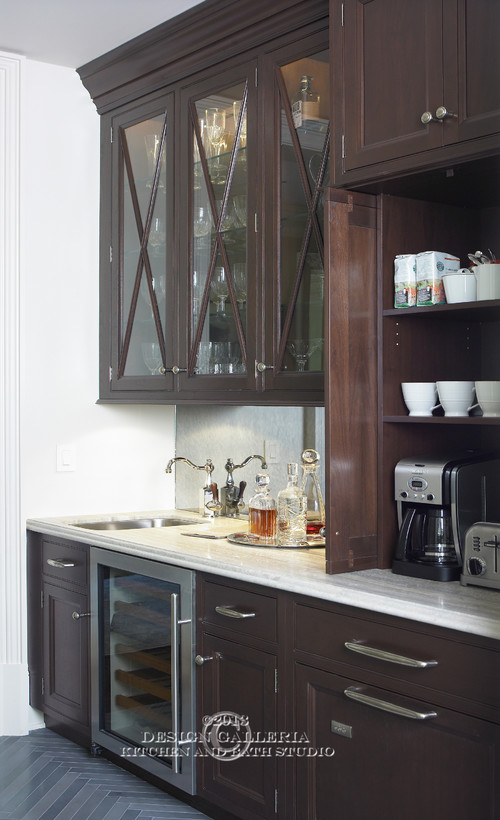 Combination of Paint & Stain Cabinets: Using a combination of paint and stain provides interest. If you have an island using a different finish or color is a great way to make the island stand out. You can also do a combination of two different paints.
Comments
More Like This
Recent Posts
by Design Perspective
Our bloggers use the new ARM & HAMMER™ Truly Radiant™ Collection for a radiant smile. Read their posts where they share a few of their real-life experiences and advice on how to feel radiant day-in and day-out. Plus get a chance to win a $100!
Read more
Most Popular
on Home & Garden
Recent Comments
on Home & Garden