A Labor Day Summer Round-Up: Vegan cooking school, travel eats, gardening and blogging conferences
If you're in the U.S., happy long weekend! Today I thought I would simply provide you a round-up of summer highlights. Tomorrow feels like "back to school" day and I don't have kids and I'm not taking classes this term. But my summer of fun is coming to an end. I prepped lots of food for the week (two bean dishes, two mixed grain dishes and chopped up my fresh veggies) and I'm ready!
As we move into fall, here's a look back on the summer.
1. I planted my first urban bistro garden.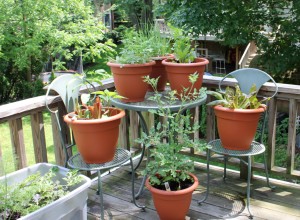 2. I took a 3-Day Cooing Intensive with Christina Pirello in Philadelphia in June.
3. I traveled
4. I attended Vida Vegan Con in Portland.
It was a wonderful Summer. Fall, I am ready for you.
***
VIV Magazine is currently running an article in which I was featured: Real Woman, Real Lessons: With age comes wisdom –and for many women, that's especially true when it comes to nutrition…
VIVmag offers insight, advice and authentic stories to inspire and motivate women in their quest for a balanced and healthy lifestyle. Smart and vital, VIVmag readers know the way to live.

VIVmag is a first: It's an all-digital magazine that delivers reliable, accurate service journalism in beauty, style, travel, wellness, healthy eating, fitness and awareness. Its audience of savvy women are genuinely committed to leading healthy, balanced lives.

VIVmag's interactive content entertains and informs, helping readers achieve the confidence that comes from engaging life at a higher level. VIV. It's the way to live.
I should note that you do have to subscribe to VIV Mag to read the article.
JL writes the blog JL goes Vegan: Food & Fitness with a side of Kale and is writer/editor of Stop Chasing Skinny.
Trending Now
More Like This
Recent Posts
by JL Fields
Sparkling ICE is a bold flavored sparkling water that truly delivers on taste and contains just the right amount of fizz. Read our bloggers' posts and get more details on how you can enter the Flavor Face Off plus find out more about the delicious flavors that Sparkling ICE has to offer.
Read more
Louisiana Seafood Reviews & Giveaway
With a little help from Louisiana Seafood, bloggers share their favorite Louisiana Seafood recipes. Read their posts and enter for a chance to win $100!