The Last Gasp of Summer: Make Some Greek Salad!
BlogHer Original Post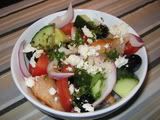 Salad variations containing tomatoes, cucumbers, Kalamata olives, and Feta Cheese are known the world over as Greek Salad. Never mind that in Greece there would certainly be green bell pepper, probably red onions, definitely dried oregano, and never lettuce, good cooks everywhere who love tomatoes, cucumbers, and feta cheese have their own version of this beloved dish.
I never met a Greek Salad I didn't like, and now that summer is winding down, I'm looking for every excuse I can find to eat this just one more time, before the tomatoes are gone and I'm forced to find other uses for Feta cheese! If you live where summer is coming to an end, try one of these variations of Greek Salad to keep yourself in the summer mood a bit longer.
To get you started, you can watch a very well-done video on how to make a Great Greek Salad from Dani Spies in L.A.
There's a beautiful Layered Greek salad from Piperita at The Kitchen Pantry in Milan.
At Technicolor Kitchen in Brazil, Patricia calls hers Almost Greek Salad, and it does have a slightly South American twist.
In Toronto, Kevin of Closet Cooking makes Greek Panzanella Salad, which is shown in the photo. Kevin creates some delicious looking food in "a closet sized kitchen."
The Clumsy Cook's version is Not-So-Greek Salad, with an Italian twist!
Culinary Adventures in Ontario whips up a Greek Salad Pizza. She says it was well-received when she took it to a pot-luck.
From Ottawa, there is an interesting story about how Janet is Hungry improved on her own recipe for Greek Salad without knowing it.
In Baltimore, Insomniac Chef has a vegan version of My Big Fat Greek Salad.
Salt and Pepper from Brooklyn confirms that Greek Salad doesn't have lettuce.
The Daily Raw from Denver has a Raw Greek Salad using cashew feta.
I could probably find Greek Salad recipes forever, and I'd want to taste them all, but I'll end with A Gluten-Free Journey in the U.K., who's calling her version a Greekish Salad.
Blogher Food Editor Kalyn Denny has been celebrating garden tomatoes for the last week, including lots of Summer Tomato Salads, and Greek Salad is definitely going to be on the menu today!
Recent Posts
by Kalyn Denny