Latest Perfume Launch from Chanel - Jersey
I have obviously been watching too much Jersey Shore and been overly concerned about the horrible fact that Snooki (from Jersey Shore) is supposedly launching a fragrance. This is my defense, anyway, as to why my eyeballs popped out of my head when I saw that Chanel's new addition to their Les Exclusifs fragrance collection was ... Jersey. I thought, no ... no! Chanel can't be associating itself with Jersey Shore ?!
Once the panic passed and my brain started working again, I remembered that Coco Chanel was intimately associated with the fabric Jersey. Supposedly, "in 1916 Gabrielle "Coco" Chanel outraged the fashion industry by using jersey at a time when it was strictly associated with underwear. 'This designer made jersey what it is today - we hope she's satisfied,' snapped Vogue in 1917." Thus, knowing Chanel's history it immediately becomes clear as to why they have launched a fragrance named Jersey.
Due to a price tag of $110 and $210 I have, unfortunately, not had the opportunity to sample this luxury perfume, but the Scented Salamander reports that it has "notes of lavender, vanilla and white musk which are evocative of the greenery of the countryside." It sounds like it would be a very nice subtle fragrance. Thinking about it though, and no disrespect to Chanel, but I bet it would translate well into an air freshener ...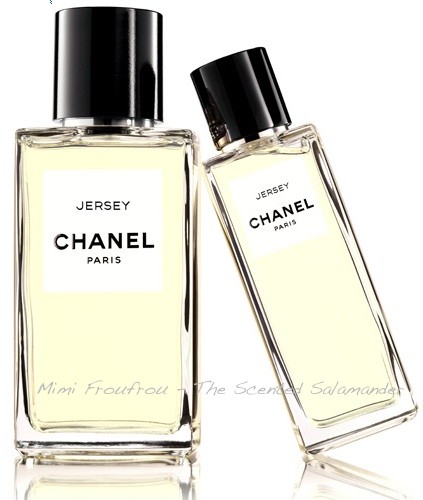 Related Posts
Recent Posts
by Perfumista
Our bloggers tried out Panasonic's HomeTeam App. An online service that connects loved ones across generations and distance. Read more and see how they shared activities and built lasting memories. PLUS get a chance to win a $100.
Read more
Garnier Reviews & Sweepstakes
Our bloggers share how Garnier's Ultra-Lift® Miracle Sleeping Cream helped them feel and look more refreshed, despite their lack of sleep PLUS a chance to win $100!