Latinas at BlogHer 2010
***Cross posted from ModernMami.com***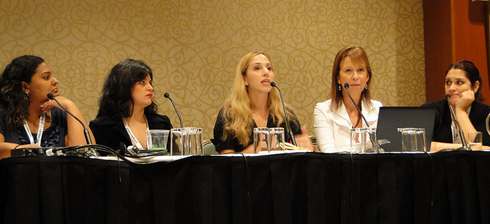 A little over a week ago, I attended the BlogHer 2010 conference in New York City. It was wonderful for a variety of reasons: the husband and baby girl went with me, I was part of a group of seven Latina bloggers sponsored by Vme TV, and there was an amazing vibe present amongst the bloggers attending.
On a personal level, I was able to connect and hang out with many people, both from the brand/PR side, as well as fellow bloggers. Many hugs, laughs, and conversations were exchanged. The bond between a group of women who "talk" on a regular basis online, was deeply strengthened.
This year's BlogHer also afforded me some fabulous professional opportunities. From co-hosting the first-ever Latino BlogHer community party, Social Fiesta, and speaking on a panel, to being interviewed for the first time ever…then proceeding to two additional video interviews. All of this in just three short days.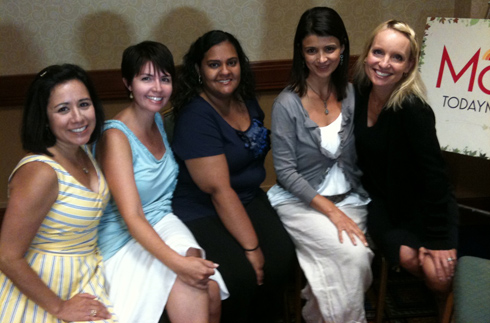 The panel I spoke on, titled Latinas in Social Media, was very successful. As both a speaker and moderator of the panel, I am extremely pleased with the outcome and have received really positive feedback from those in the audience. Both bloggers and brand/PR representatives enjoyed learning about the Latina social media community and hearing first-hand from Latina bloggers. A dialogue ensued between the panel and attendees that could have lasted for many more hours, but unfortunately had to be cut short due to time limitations. However, it was a wonderful start to what I envision will lead to many more conversations via blogs and other social media outlets.
I'd like to create such an outlet here by sharing some highlights from the panel for those who couldn't attend, and continue the dialogue so that both bloggers and brands can learn from each other.
First, the panelists that spoke at the BlogHer 2010 Latinas in Social Media session were:
Some key facts we introduced at the beginning of the panel:
Latinas have been blogging for an average of 4 years, some much longer
Latina-owned blogs are written in English, Spanish, or a combination: 72% English, 69% Spanish, 8% Spanglish
37% of Latina blogs focus mostly on being Latina; 18% have never mentioned they're Latina
While all panel members are moms, many Latina bloggers are not and some are single and have never been married
Variety of topics/niches amongst Latina blogging community: politics, food, coupons/frugal, culture, green living, etc.
*Source: Latina Bloguera Survey, July 2010 (over 900 Latina bloggers were surveyed)
Each panelist shared what inspires her to write and how being a Latina influences her writing, if it does at all. A consensus amongst the panelists was that being Latina does influence our writing, much in the same way it influences our daily lives. We all embrace our Latino culture and bring a variety of cultural values and traditions to our blogs. While none of the panelists particularly focus on Latino culture on their blogs, they all agreed with my statement that "I may not often write about being a Latina or my culture, but I share a Latina point of view on similar topics others write about."
In addition to sharing our personal stories, the panel asked questions of the audience, since we were also interested in learning from them. Some questions we asked attendees included:
Do you feel you need to announce that you're Latina on your blog? Should we have to?
For the PR and brand representatives: What do you look for when marketing to Latinas or reaching out to Latina bloggers? What about when seeking bloggers in general to join your campaigns?
What is the value in collecting together as Latinas and working together?
From the comments shared, I learned that whether or not a blogger specifies she is Latina on her blog will depend greatly on the person and the content of the blog. For example, one blogger pointed out that when writing about political issues, announcing yourself can lead to privacy and safety issues - she herself had even received death threats via her blog. Others have no issues announcing their heritage and find it to bring about many more connections. I myself shared that when I began ModernMami.com in 2006, I did not specify I was a Latina. Those that knew Spanish or were familiar with the term, recognized the "mami" part of the blog name and would ask if I was Latina. However, about two years later, an online friend suggested that I incorporate being Latina more into my writing, and I proceeded to share that I am Latina on my about page. The change in how I was approached was evident almost immediately.
The PR and brand representatives that spoke up during the panel shared that mostly they don't specifically look for Latina bloggers, but more so great content. They shared that when seeking bloggers to partner with on campaigns, they look at several factors:
Numbers do matter. While they'd love to say it's not important, many of their PR clients and brands do ask for numbers.
Content matters more. They love to see personality in the content you write and prefer that as bloggers we incorporate personal stories into our blog posts rather than just copy and paste a press release.
Be professional. Above all, act professionally when working with brands and PR companies. After a good experience with a blogger on a campaign, it's more likely they'll reach out to you again for future campaigns.
As I mentioned, I'd like to continue the conversation held during the BlogHer panel. Whether you're a blogger, PR or brand representative, and whether or not you attended the session during BlogHer '10, please share your thoughts on the information and questions discussed. I think many from both sides can learn from each other.
Some more information concerning Latina bloggers that came about during or after BlogHer 2010 (video interviews found below):
Videos:
TODAY Moms Interview
Visit msnbc.com for breaking news, world news, and news about the economy
PepsiCo Interview
Recent Posts
by modernmami