Laura Mercier's Eye Basics Keeps Shadow Where it Belongs
I am a low-maintenance makeup girl; I like to spend as little time as possible on my face, and then be done with it for the day.  Once my morning rush is over, the most I'm willing to do is blot my T-zone and slather on some more lip gloss -- and I typically do both of those without the aid of a mirror. But I still want to look perfect all the time, because I'm a little high-maintenance that way.  I'm a complex woman, you all.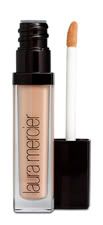 I am constantly on the lookout for products that are both simple to use and do more than one thing; I also want products that last and last (because I am lazy, in case you missed that -- you know, up there in that first paragraph).  I've also learned an important lesson from Metalia: in order to keep my actual makeover time speedy in the morning, I put most of my effort into my eyes.  And so -- here comes the thesis! -- I need products that make my eye make up last all day, because I'm not spending any time fixing it.
Enter Laura Mercier's Eye Basics ($24.00 for 0.18 ounce, which will last you FOREVER, trust me).  Equal parts primer and highlighter, this long-lasting cream holds my shadow in place all day at the same time that it highlights my lids and gives me a boost that I just can't get from coffee.  Apply sparingly -- I start with two dots from the wand, right in the center of my lid -- and blend gently and completely, either with your ring finger or with a small concealer brush.  I cover my lid from the lash line to the crease, and all the way down to the inside corner of my eye; the light matte finish opens my eyes without seeping into my wrinkles. 
Eye Basics can be used alone, to smooth and perfect lids, or under shadow, to hold color all day.  I pair it with my Benefit High Brow pencil because I haven't slept well since the late 1980s.  Seriously.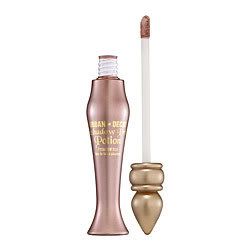 Want a little more drama from your primer?  Urban Decay's Eyeshadow Primer Potion in Sin might be exactly what you're looking for.  Like the original Urban Decay Eyeshadow Primer Potion, this formula provides a long-lasting base for shadow.  But this one comes in Urban Decay's superfabulous Sin color -- a softly shimmery champagne shade that works for virtually everyone.  Apply sparingly, and be extra sure to stay clear of the inside and outside corners of your eyes -- shimmer in your crow's feet is not a good look on anyone.  The color is subtle, but this option gives you a little extra something for those days when a full eye is just too much work.  Add mascara and you're done!
Urban Decay's Eyeshadow Primer Potion will run you $17.00 at Sephora; right now, the only color available is Sin, but Product Girl is hopeful that we'll see more shades soon. 
Other options: Musings of a Muse loves her some Guerlain Ombre Eclat Eye Shadow Primer.  And Decorative Diva has done a full primer smackdown.  Thank goodness.
COMMENTS
Recent Posts
by Susan Wagner
Most Popular
We asked our bloggers to craft some recipes from the different Success® Rice flavors and tell us about it. Check out their ideas and you could win a $100 Visa gift card!
Read more
Lean Pockets have no artificial flavors, a good source of protein & have 100% real cheese. Read our bloggers posts where they will tell you their guilt free experiences with Lean Pockets. Plus get a chance to win $100!
Read more