Lemon Ginger Iced Tea
Summer is fast approaching and few things are as refreshing and thirst quenching as homemade lemon ginger tea. These days I make it every morning and keep it in the fridge for my in laws because when they come home from a walk they want to relax with a refreshing drink. Not only is it delicious and a great alternative to fizzy, calorie laden drinks or juices, it is really healthful.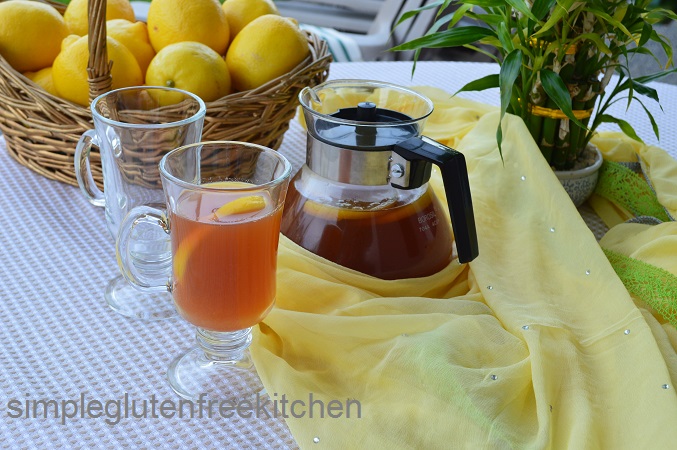 Lemon Ginger Iced Tea
Prep Time: 5 minutes
Cook Time: 10 minutes
Total Time: 15 minutes
Ingredients
4.5 cups water
1.5" piece of fresh ginger root, grated or pound
2 black tea bags (or green if you prefer)
honey/ sugar/stevia or brown rice syrup to taste
7-8 lemon slices
4 tbsp lemon juice
Instructions
Lay lemon slices flat on a baking sheet in the freezer, until solid.
In a saucepan bring water and ginger to boil. Reduce heat to where it sustains a gentle boil and cook for 5 minutes.
Add tea bags and bring to boil on medium. Turn off the heat after 30-45 secs.
Strain tea into a carafe/pitcher/kettle, discarding the solids.
Stir in lemon juice and sweetener.
Set aside to cool down to room temperature. Refrigerate until cold.
Serve with frozen lemon wedges.
Recent Posts
by Balvinder
We asked our bloggers to craft some recipes from the different Success® Rice flavors and tell us about it. Check out their ideas and you could win a $100 Visa gift card!
Read more
Lean Pockets have no artificial flavors, a good source of protein & have 100% real cheese. Read our bloggers posts where they will tell you their guilt free experiences with Lean Pockets. Plus get a chance to win $100!
Read more