Life's Ambrosia: Profile of a Seattle Food Blog
BlogHer Original Post
Say hello to Deseree, a 20-something food blogger from Seattle who "cooks and eats" and relies on her talented husband to "shoot and eat" for her food blog celebrating the "food of the gods."
THE BLOGGER
Name – Deseree
Hometown – Seattle
Day Job – Marketing Assistant
Sharing Your Table – Family, friends and anyone who's interested :)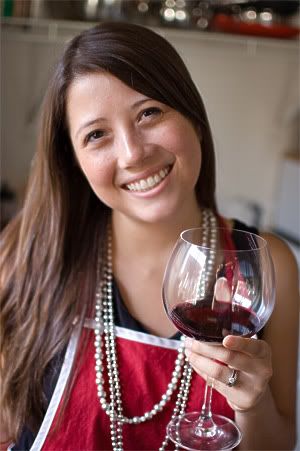 THE BLOG: Life's Ambrosia
About the Name – "Ambrosia means "food of the gods" or "nectar of life" in Greek mythology. I interpreted that as the things that keep you going, keep you happy. Originally the blog was going to be about a variety of things (cooking, family, books, etc…) the important things, or nectar, of my life so I picked Life's Ambrosia. When I narrowed it down to just a recipe blog the name still fit so I kept it."
First Post – 2008
How Your Blogging Has Changed, Then vs. Now – "Originally I was only blogging every couple of weeks, however now it has become a part of my life. I take it more seriously then I did in the beginning but I still have a lot of fun doing it."
"Elevator Description" – "My blog is a recipe blog with quick and easy homemade for the everyday home cook. I believe that food doesn't have to be fancy or gourmet to be food that you and your family will love."
"Hobby Blog," or a Step in Your Career Plan? – "A step in my career plan."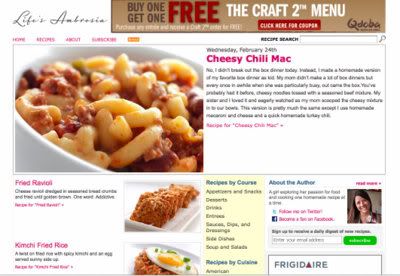 STATS
Blogging Platform – Wordpress
Pageviews per Month – 150,000
Page Rank – 4
Subscribers – 1500
Tools to Attract Visitors – SEO optimization, sites to generate traffic such as Tastespotting and Foodgawker
POSTS
Posting Frequency – 5 days a week
Favorite Post This Year – Cheesy Roasted Garlic Potato Balls
Surpringly Popular – Caramelized French Onion Dip
Deciding What to Post When – "I usually decide right before I write the post, I try to avoid posting things that are too similar to each other each week."
Recipes That Don't Work Out – "I keep working on them until they are how I want them."
Cooking Groups – "I belong to Daring Bakers. It's nice to be a part of a community, and I like the challenge. It has brought me new readers as well as introduced me to blogs I wouldn't have found otherwise."
PHOTOS
Camera & Lenses – Nikon D40 with 55mm Macro lens
Location – Kitchen table
Personal Photo Trick – tripod and macro lens
Favorite Photo This Year – Dark Chocolate Raspberry Cupcakes
RECIPE INSPIRATION
Sources of Inspiration – "I get my recipe inspiration from friends, family, browsing through food magazines and visits to restaurants."
Favorite Cookbook This Year – The Pioneer Woman Cooks
FRIENDS
Three Sites You Love, for Inspiration – The Pioneer Woman, Simply Recipes and Tastespotting
Three Bloggers You've Met in Person – Alice from Savory Sweet Life, Lorna from The Cookbook Chronicles, Keren from Frantic Foodie
SOCIAL MEDIA
Deseree on Twitter
Life's Ambrosia on Facebook
BlogHer food contributing editor Alanna Kellogg is on vacation but -- thank you, technology! -- her recipe websites keep on publishing. Check for the latest recipes at Kitchen Parade and A Veggie Venture.
More Like This
Recent Posts
by Alanna Kellogg
Our bloggers recreated the Merry Berry, Festive Flirt, Playful Party Girl and Holiday Romance looks using Mary Kay® products. Check out the different looks you can do this holiday season!
Read more