The List of My Rocker-Chick Idols
I'll list them in chronological order (according to when I began to worship them):
Ms. Joni Mitchell >
The queen of folk, master of emotion, poetry and lyrical genius,
there's nothing NOT to love. Just talking about her is making me CRAVE
listening to something off her BLUE album, one of my favorite albums of
all time.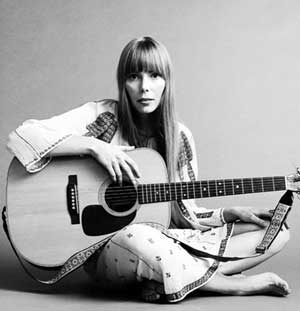 If you've never gotten into her before please listen to "A Case of You," "California," or "Free Man In Paris," as soon as you get the chance.
Astrud Gilberto >
Although more of a soulful jazz singer than rocker chick, I thought I'd
include her because not enough people worship her as they should. Along
with her husband, Joao, and friend, Stan Getz, she helped build the
foundations of Portuguese Jazz. Her voice paired with Stan Getz's sax
is both soothing and romantic.

Pleasssee do yourself a favor and listen to: "The Girl From Ipanema," "Fly Me To The Moon," and "Berimbau"
Chan Marshall a.k.a. Cat Power >
Her soulful smoky voice can make me feel better no matter what.
Although she battles stage fright, she has a powerful stage presence
and great style.

New to Cat Power? Listen to "He War," "Maybe Not," "The Greatest," and watch this:
Leslie Feist (Feist)
> Catchy, happy, original, and quite lovely. She can soundtrack any
happy, good mood day without making you feel like a superficial
girly-girl.

The Feist starter kit: "Mushaboom," "1234," "I Feel It All," and "So Sorry."
Karen O. (ala Yeah Yeah Yeahs)
> THE rocker chick of our time. Great unique style, amazing stage
presence, makes you wanna rock out (see: my rockout instructional
picture on the left) wherever you are.

All you need to do to fall in love with Karen O, is watch this video:
M.I.A. > "third
world democracy, [she's] got more records than the KGB." HA, she's the
gangsta-chick of international trip-hop. The woman you turn to when you
feel like not wearing clothes that match and listening to something
funky.

In order to begin digging M.I.A., check out "Paper Planes," and "Galang"
'tis all for now. SOTD: Astrud Gilberto - The Gentle Rain (RJD2 Remix)
Comments
More Like This
Recent Posts
by margottobed
Help protect your family from the transmission of harmful bacteria and viruses! Use Lysol's Full Bathroom Range to remove soap scum, lime scale, and everyday dirt and grime to leave your bathroom smelling clean and fresh.
Read more
Most Popular
on Entertainment
Recent Comments
on Entertainment