Loaded Potato Soup Just Like Mama Makes
Featured Member Post
I don't know what is up with the weather lately. We have been getting so much rain this summer!
Usually, we are talking about how much we wish it WOULD rain during the summer, but instead, I find myself wishing it wouldn't as much.
One thing I crave when we get rain is SOUP, regardless how hot it is outside! Not sure what it is, but my brain just seems to be wired like that.
Image: Courtesy of Babies and Biscuits
I did a previous post on a soup I fix when it rains a lot called Hamburger Soup. If you want to check that post out, you can see it here.
This one, however, is a doctored-up version of my mom's regular Potato Soup. I LOOOOOOOVE my mom's Potato Soup!
It is the perfect comfort food for me because my mom used to make it all the time.
Her's is a basic Irish version, but it's easy to make it Loaded Potato Soup! You just add everything that you would normally add to a traditional baked potato.
Of course, I would probably refrain from adding any crazy things like salsa. Yup, wouldn't add salsa…………….
And from the scratching you are doing to your noggin right now must mean I'm the only nut that adds salsa to their Baked Potato. *Moving ON!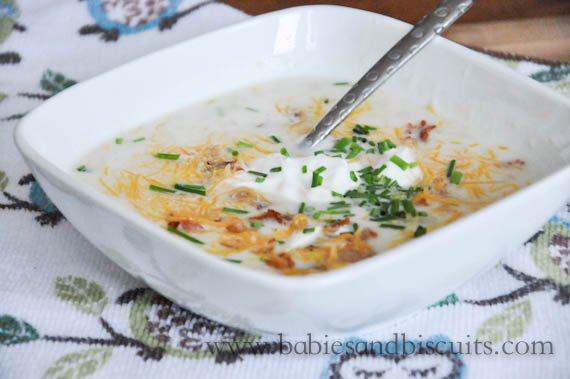 I added shredded cheese, crumbled bacon, sour cream, and chives. I swear I even saw the owls on this kitchen towel smile when I did it. They even knew how good this soup was. ;)
So, without further Adieu, I would like to share the recipe with you….. 'Cause I wuv you that much! ;)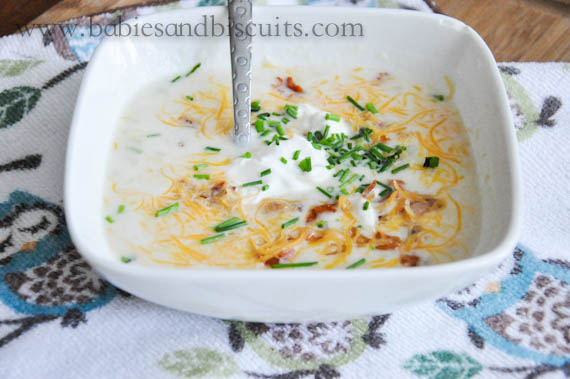 Recipe:
Loaded Potato Soup
Ingredients:
- 7 or 8 Large Russet Potatoes, Skinned and Diced
- 2 Large Onions, Chopped
- 3 Tbsp. Butter
- 2 Tbsp. Olive Oil
- 2 Tbsp. All-Purpose Flour
- 6 Cups Milk (I used Skim)
- 2 Cups Water
- Cheddar Cheese, Crumbled Bacon, Sour Cream, Chives for Topping
Directions:
- Heat a large pot over medium high heat.
- Add onions, butter, and olive oil to pot and saute' onions until "translucent" and softened.
- Reduce heat to medium.
- Add potatoes and stir well.
- Add flour, one tablespoon at a time and stir to coat in between adding flour. (work quickly because potatoes will try to stick to bottom of pot)
- Add milk and water to pot and stir.
- Simmer soup for 40–45 minutes until potatoes have softened and soup has thickened.
- To serve, top each bowl of soup with preferred toppings.
*Tip: If potatoes have softened and soup is not as thick as you would like, thicken by adding a 1/4 cup of Cornstarch to 1 cup of soup liquid in a separate bowl. Once thoroughly combined, add to soup pot and stir continuously until soup thickens. However, keep in mind that soup will definitely thicken once you add all your toppings.
XOXO!
-Esther
Recent Posts
by Babies and Biscuits
100% fruit in a portable, resealable pouch so parents can keep going knowing their kids can enjoy a healthy yet delicious snack whenever, wherever. See why our bloggers choose GoGo squeeZ and why their kids love the delicious taste!
Read more
Green & Black's Organic Chocolate Reviews & Sweepstakes
We placed Green & Black's Organic Chocolate to the test! Check out these delicious chocolate recipes and recreate them for the ones you love using exceptional, fairtrade ingredients. Plus get a chance to win $100 cash equivalent and a chocolate prize pack.