That Mad Men Look On Your Eyes
The third season of Mad Men came to a conclusion on Sunday night -- I know I was satisfied! -- and I'm already looking forward to what's coming next season.
One of my favorite fashion times is approaching in the Mad Men world: the British Invasion, with the Beatles' first appearance on Ed Sullivan in February 1964 and A Hard Day's Night's US release in August 1964. I'm thinking Carnaby Row, Twiggy, miniskirts and Vespas. My vintage fashion icons are more Mary Quant than Marilyn Monroe, so I'm excited to see where we wind up in time -- and fashion -- when Mad Men returns next summer. (Trudy Campbell is going to wear some awesome stuff, I just know it!)
That said, while I can't quite pull off the Joan Holloway or Betty Draper look with my wardrobe, I can use the tips and tricks from the Mad Men make-up artists to rock the 1960s look.
So, on Sunday, still wearing my sweatshirt (oh, the glamour of my life!), I put on a full Mad Men-inspired face for the finale. Since the head of make-up for Mad Men, Lana Horochowski, has been giving out her secrets to bloggers and cosmetic companies (MAC and NARS have both shared her favorite products from their respective companies), I put some of her advice to the test, as you can see below!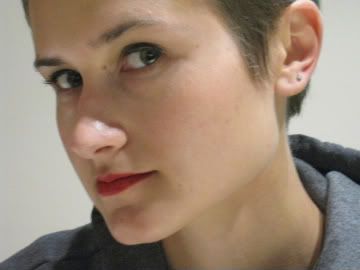 (Check out ye olde college hoodie -- so fancy!)
There are three things to focus on for the Mad Men look: the eyes, the cheeks, the lips.
The Eyes: The emphasis on the eyes is a strong black liner across the top lid only, with a little wing if you're feeling adventurous. Horochowski recommends MAC Fluidlines (cream liner) in Blacktrack (black, and what I'm wearing here) and Rich Ground (brown) as her top Joan products; you may recall that Blacktrack is a BeautyHacks favorite for the cat eye too. Definitely go re-read Roxanna's post if you're going to give this look a try! The eyeshadow is a simple shimmery brown from Lancome, since it's all about the liner and the lashes. Speaking of lashes, I'm just wearing mascara (Too Faced Lash Injection), but if you want to take this to another level, add a strip of false lashes.
The Cheeks: Revlon introduced powder blush to the market in 1963, so a cream blush tends to be the way to go for your cheeks for a period-accurate look. You certainly could use powder blush, but again, BeautyHackers already know cream blush is hot for winter! Horochowski says MAC Blushcreme (Posey) or NARS Cream Blushes (Penny Lane or Gueule de Nuit) are some of the products she uses on set for Betty or Joan; I had Stila Convertible Color in Lillium handy.
The Lips: Before you go with a matte lip, especially a bold red one, be sure to prep by exfoliating (especially if your lips are dry/flaky this winter, which, alas, mine are) -- you can use a mixture of brown sugar and olive oil for a light scrub. Definitely use a lip liner that matches your lipstick to line your lips; it'll keep the color from bleeding, and you know Betty and Joan use their lipliner. While I used MAC's Russian Red (as I already had it in my collection), Horochowski has mentioned the NARS Matte Velvet pencils as one of her favorite products for a matte lip. You don't just have to use red, either, since reds can be tricky; trends were shifting to more pinks and corals by 1963, too. For a strong coral, MAC Vegas Volt is another Horochowski favorite; a pink-red I've been using, recommended by previous Mad Men make-up head Debbie Zoller, is Laura Mercier Mistress.
Obviously, it's a very dramatic look -- my boyfriend, on my greeting him at the door, said, "WOW, you're wearing bright red lipstick!" To tone it down for every day, try lining just the upper lid with thin black eyeliner (pencil will do fine here!), plus a softer -- but still not shimmery -- lip; I really like the Lipstick Queen Saint lipsticks in Saint Natural and Saint Rose.
What did you think of this season of Mad Men? What are you looking forward to for next season? Are you shaking up your make-up look this fall or winter? And if so, what are some of your favorite products?
ADD A COMMENT
Recent Posts
by Jeanne B.
Simply Beverages™ use never-from-concentrate juices in all of their beverages. And they never add any preservatives, colors or artificial flavors. Read our bloggers' posts and find fun beverage recipes you can serve this summer! Plus get a chance to win $100.
Read more
Excedrin® Migraine relieves sensitivity to light, sensitivity to sound, nausea and relieves pain in just 30 minutes. Read our bloggers' posts as they talk about their experiences with migraine and how they cope with it. Plus get a chance to win $100!
Read more