Mammograms Better Than Thermography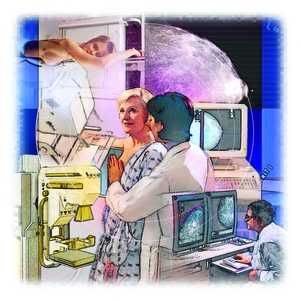 I just went in for my annual mammogram and had to go back for more magnification views and an ultrasound. The calls to ask you to come back in always make me pause and wonder if this is going to be the time when I hear bad news. I had a breast biopsy2 years ago and the scar tissue that's left creates a area on the mammogram that doesn't look quite right.
And so, like millions of women I head back for more screening, thankful on one hand that we have diagnostic imaging available and that we don't have to guess and hope that everything is ok, but can look for problem areas. I often think of women in other developing countries who don't have access to mammograms and treatment and am grateful that I live here.
My patients are always wondering if the alternatives to mammogram including
thermography
make sense. Thermography utilizes temperature readings to look for areas of concern that have higher temperatures which would be an indirect indicator of more biologically active cell turn over which is what occurs in some
cancers
. It sounds like a good idea, but in this case, thermography is not as good as mammograms and misses many cancers.
Related Posts
More Like This
Recent Posts
by NurseBarb
Sparkling ICE is a bold flavored sparkling water that truly delivers on taste and contains just the right amount of fizz. Read our bloggers' posts and get more details on how you can enter the Flavor Face Off plus find out more about the delicious flavors that Sparkling ICE has to offer.
Read more
Recent Comments
on Wellness