Matzoh for Passover: A Traditional Food with Many Delicious Recipe Options
BlogHer Original Post
Matzoh (also spelled matzo, matzah, matza, and matsah) is a traditional part of the Passover Seder, and many dishes with matzoh are served during the Jewish observance of Passover, which is April 9-15 this year. Even though I've written about Passover Recipes a few times for BlogHer, I confess I've never seen or tasted Matzoh. Sure, I've heard of Matzoh Ball Soup, but I thought it would be fun to see what else is made from Matzoh.
I checked Wikipedia on Passover food traditions and confirmed that Matzoh is a type of unleavened flatbread, eaten during Passover when bread and leavened baked goods aren't permitted. I also learned that matzoh flatbread is ground into matzoh meal, used to make matzoh balls and some types of passover sweets. Matzoh comes in flavors, and there are also gluten-free varities of matzoh made from oats or spelt.

Photo of Matzoh from The Perfect Pantry.
Lydia has a lot of good information about matzoh at The Perfect Pantry, along with her dad's recipe for
Matzoh Brei
(pictured below.)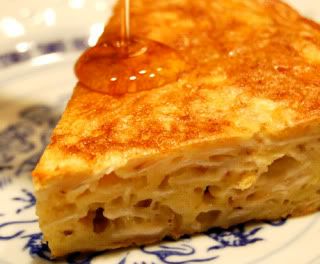 Photo of Matzoh Brei from The Perfect Pantry.
I also found Matzoh Brei at Herbivoracious (which calls it
Jewish Chilaquiles
) and
Matzoh Brei with Carmelised
Apples at Bfruitfull.

Photo of Matzoh Ball Soup from Smitten Kitchen.
Matzoh Ball Soup is traditional, and the
Matzoh Ball Soup
at Smitten Kitchen certainly looks very tasty. I also like the looks of the
Gluten-Free Matzoh Ball Soup
at Elana's Pantry and the
Sephardic Matzoh Ball Soup
at Tigers and Strawberries. If you'd like to see how it's done before you commit to making matzoh balls, at From Scratch you can find a video of
How to Make Matzoh Balls
.

Photo of Chocolate-Covered Carmelized Matzoh Crunch from David Lebovitz.
Many bloggers mention how Matzoh benefits from the addition of chocolate, and the
Chocolate-Covered Carmelized Matzoh Crunch
from David Lebovitz is a good case in point. The folks at The people at the Kitchn agree with the chocolate+matzoh formula, and Matzoh Crack is what they've nicknamed their
Chocolate Toffee Matzoh Candy
.
Chocolate Caramel Matzoh
at Zoe Bakes is another chocolate matcoh combo that looks tasty.
More About Matzoh
~Amy Sherman writes The Matzoh Hater's Guide at One for the Table, and though she claims matzoh "feels like penance" her recipes for Toffee Chocolate Matzoh Crunch and Bacon and Onion Matzoh Brei both sound delicious.
~At Albion Cooks, Catherine shares how she makes Matzoh Lasagna.
~It's not kosher for Passover but the Spinach-Matzo Pie at Fat Free Vegan Kitchen looks intriguing.
~About.com has a good collection of Matzoh Recipes.
Have you eaten matzoh? If you have other interesting recipe ideas for using matzoh, please share a link or your recipe in the comments.
Kalyn Denny shares her passion for low-glycemic cooking at Kalyn's Kitchen.
Trending Now
More Like This
Recent Posts
by Kalyn Denny
Mom has a lot to check off her list this Summer, and Kellogg's cereal can help her get it done. How will you make the most of your Summer? Check out our blog posts as we share with you inspirational ideas for celebrating the moments of magic that will happen during this activity-filled time of year! PLUS enter for a chance to win as $100 Walmart gift card!
Read more
Kelloggs Walmart Shoppers
Bloggers show us how they use cereal to create fun, summer memories. Read their posts and enter for a chance to win $100!