Black Bean and Avocado Enchiladas
BlogHer Original Post
There's a big chocolate-eating holiday coming up, and some of you may be thinking more about Valentines Day food than you are about Meatless Monday this week. Luckily, this amazing-sounding recipe for Black Bean and Avocado Enchiladas from Budget Bytes has you covered for both. The delicious enchiladas are vegan, and Beth says avocado provides the creaminess that you might normally get from cheese in an enchilada recipe. And the from-scratch sauce used for these enchiladas has a little bit of cocoa powder added for the extra something that chocolate always provides. Meatless Monday + chocolate; that sounds like true love to me.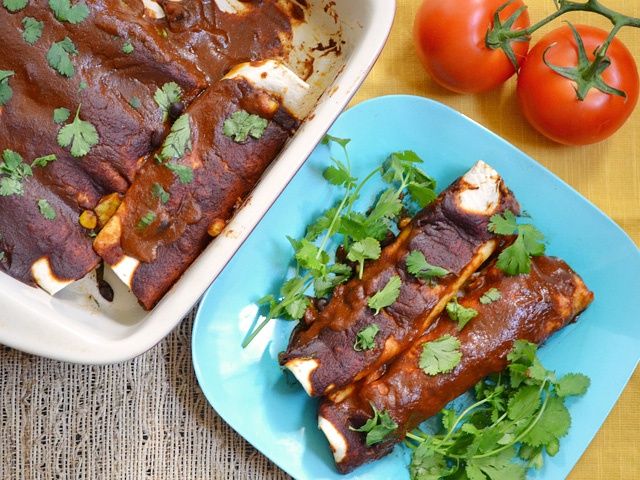 Image: Courtesy of Budget Bytes
Get the recipe for Black Bean and Avocado Enchiladas from Budget Bytes.
Have you made something interesting for Meatless Monday this week? If so please share the recipe link or your recipe in the comments. You can find more Meatless Monday recipes by clicking the tag Meatless Mondays.
BlogHer Contributing Editor Kalyn Denny is proud to be an official Meatless Monday blogger. She blogs at Kalyn's Kitchen, where she's committed to low-glycemic cooking, and also at Slow Cooker From Scratch, where she features "from scratch" slow cooker recipes. Kalyn probably won't ever be a vegetarian, but she does love to make meatless dishes such as Mexican Baked Eggs with Black Beans, Tomatoes, Green Chiles and Cilantro.
Trending Now
More Like This
Recent Posts
by Kalyn Denny
Sparkling ICE is a bold flavored sparkling water that truly delivers on taste and contains just the right amount of fizz. Read our bloggers' posts and get more details on how you can enter the Flavor Face Off plus find out more about the delicious flavors that Sparkling ICE has to offer.
Read more
Most Popular
on Vegetarian and Vegan