Meet Julie Maloney
"LISTENING is one of the greatest gifts we can give to each other."
--Julie Maloney, Founder/Director, Women Reading Aloud

How much there is, we know nothing about. Everyday, there is something new to learn.

We walk on a path throughout our lives, but until we come to new people that cross our trajectory, we are limited in what we know and can learn.

Daily, though, things happen, new contacts appear and we meet new influences which cause us to rebound in unexpected ways. Like a cue ball launched on a pool table, we travel one direction, then sharply turn in another, influenced by forces we were not expecting when we met somebody new.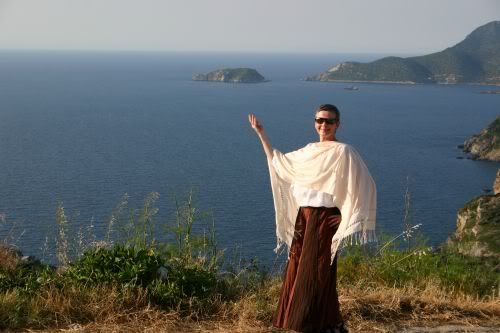 Knowing Zoe Artemis led me to meeting Julie Maloney. Getting
to know Julie led me to the Amherst Writers and Artists, with
their founder, Pat Schneider and her philosophy of authorship.
I betcha' Julie Maloney never saw herself as leading writing retreats to Greece. But, one day she met Zoe Artemis and both their lives changed forever. Zoe was leading the tours and had been for many years when she got sick. During the summer of 2011, Zoe knew she would not be strong enough to make the trip and encouraged Julie to lead the group without her. In the photo above, we see Julie on the Island of Alonnisos in the Aegean Sea, feeling on top of the world.

For information on this summer's writing retreat in Greece, click here. Just two weeks ago the trip was full to capacity, as only twelve participants can be accommodated. Recently, there was a cancellation, so there is one spot available! This would be the trip of a lifetime. Off the beaten path and seeing Greece in an intimate way, as one who lives there.
Julie founded and directs the writing organization,
Women Reading Aloud.
WRA is dedicated to encouraging each writer to find her voice and, following the Amherst Writers and Artists Method, believes each person is a writer who deserves encouragement. WRA is a non - profit organization devoted to the promotion of women writers. Julie's goals for WRA include the development of a radio talk show highlighting non-celebrity women writers from all walks of life. Writers will read excerpts of their writing on air and have a conversation about their work.
Julie is a dancer, choreographer, writer,
author, poet, designer and photographer.
From her biography on Amazon.com:
"Julie Maloney, the third of four daughters, was born and raised in Newark, New Jersey. She has worked in the arts as a performer and educator her entire life. She holds a B.A. in English from New Jersey City University and an MFA from the University of North Carolina at Greensboro. Julie performed professionally for several modern dance companies in New York City and was the artistic director, choreographer and principal dancer of the JULIE MALONEY DANCE COMPANY for thirteen years. The University of North Carolina has honored Julie with a Distinguished Alumna Award. Julie is a writer, photographer and teacher. She is the founder and creative designer for MANGO - a company that offers inspirational note cards, writing journals and books. In 2003, Julie founded WOMEN READING ALOUD, a non-profit organization dedicated to promoting women writers through special events and workshops. She is a trained workshop leader in the Amherst Writers and Artists Method and leads writing workshops throughout the year."
Julie has a lovely selection of stationery and
journals sold on-line through Mango Press.
In addition to WRA and distributing products through
Mango Press,
Julie is fully engaged in the writing life. She has written a new novel, titled
The Lender,
after traveling to Germany to do extensive research.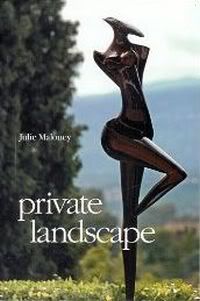 "Julie Maloney's poems in her collection Private Landscape move with the exquisite grace of her abilities as a dancer and choreographer. Dream narratives sing in delicate imagery. Pain of cancer is here, honestly revealed and transcended; love is here, in its greatest giving. There is not a trace of easy sentimentality. This is a collection to remember, at once personal and universal." --Charlotte Mandel
Poet, Sight Lines; Editor, Saturday Press
Poet/Lecturer, Barnard College Center for Research and Women
SunbonnetSmart.com
is authored by a little bird who loves to lure unsuspecting Blogher bloggers to her site.
ADD A COMMENT
Recent Posts
by SunbonnetSmart.com
Most Popular
Simply Beverages™ use never-from-concentrate juices in all of their beverages. And they never add any preservatives, colors or artificial flavors. Read our bloggers' posts and find fun beverage recipes you can serve this summer! Plus get a chance to win $100.
Read more
Excedrin® Migraine relieves sensitivity to light, sensitivity to sound, nausea and relieves pain in just 30 minutes. Read our bloggers' posts as they talk about their experiences with migraine and how they cope with it. Plus get a chance to win $100!
Read more