Mexican Red Lentil Stew with Lime and Cilantro from Kalyn's Kitchen
BlogHer Original Post
It's the Monday after Thanksgiving in the U.S., probably a time when most people here are thinking about eating something that's light, warm, and maybe a little comforting. I promise you this Mexican Red Lentil Stew from my blog will fit that description perfectly. It's vegan, loaded with nutrition from the lentils, easy to make, and definitely one of my favorite recipes for Meatless Monday. In fact, I've made this recipe several years in a row for my annual holiday soup party, and I might just make it again this year.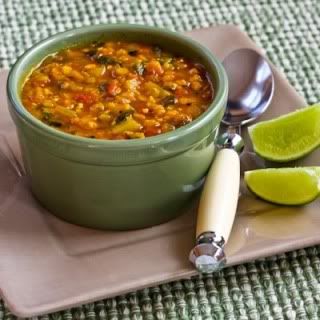 Photo of Mexican Red Lentil Stew with Lime and Cilantro
from Kalyn's Kitchen
Get the recipe for Mexican Red Lentil Stew with Lime and Cilantro from Kalyn's Kitchen.
Have you made something interesting for Meatless Monday this week? If so please share the recipe link or your recipe in the comments. You can find more Meatless Monday recipes by clicking the tag Meatless Mondays.
BlogHer Contributing Editor Kalyn Denny also blogs at Kalyn's Kitchen, where she specializes in low-glycemic recipes using fresh ingredients. Kalyn probably won't ever be a vegetarian, but she does love to make meatless dishes such as this one.
Comments
More Like This
Recent Posts
by Kalyn Denny
Lean Cuisine believes that women should be valued for their accomplishments as opposed to their weight/appearance. Lean Cuisine's new brand campaign Feed Your PhenomenalTM reflects its new brand purpose: to feed the greatness in every woman. Check out our bloggers' posts and see how they measure their true worth plus learn how you could win a $100.
Read more