Michigan Barn Quilt Maps
It's that time of year! Jump in the car for a road trip to see Barn Quilts.
Much like the Hex Signs posted on barns by the Pennsylvania Dutch in the eastern part of the United States, large plywood cutouts of quilt blocks have become popular sights in rural communities across the country. Placing quilt blocks on the side of barns and sheds, so they can be seen from the road, has brought auto traffic with income to towns otherwise lost to the Interstate Highway System.
Donna Sue and her Mother.
While the origin of Hex Signs has been lost, the recent advent of Barn Quilts is directly traceable to one woman, Donna Sue Groves, in Ohio, who bought a farm with her mother and wanted to spruce it up in honor of her mother's love for quilting. Donna Sue is well known to quilters and Barn Quilt enthusiasts alike, and will be even more famous once a film about her is released. Called, "Pieced Together," the movie is in production with an anticipated release of early 2015. Filmmaker Julianne Donofrio has been working on the film since 2009 and successfully ran a Kickstarter cloud funding campaign in the fall of 2013. Funds are still being solicited to enhance the final product, BTW, and by going to her Kickstarter post, you can still contribute.
Many states with rural area have now set up Barn Quilt trails along with accompanying brochures to guide visitors on self-directed tours. Michigan has many such trails, offering an on-line PDF to be printed out here. There are many web sites devoted to Barn Quilts now, but one of the most inclusive is Barn Quilts Info, maintained by Suzi Parron, who with Donna Sue Groves wrote the book, Barn Quilts and the American Quilt Trail Movement. It can be purchased on-line at Amazon and a link is found below.
Whether you make quilts, or just love to look at and sleep under them, the American Quilt Barn movement provides an enriching hobby and a great excuse to enjoy back road America.
Click for a preview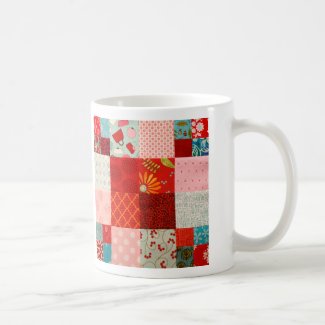 "Forever Tiled" by SunbonnetSmart Coffee Mugs by SunbonnetSmart

SunbonnetSmart.com is authored by a little bird who loves to lure unsuspecting BlogHer bloggers to her web site, daily newspaper,
The SunbonnetSmart.com NewsFlash, and Facebook Fan Page
Comments
More Like This
Recent Posts
by SunbonnetSmart.com
Michelin wants to remind drivers that whether or not your first (or current!) car is in the best condition, your tires should be. The MICHELIN Premier LTX provides exceptional levels of safety even as tires wear down, making them safe when new and safe when worn*. Even when worn, the MICHELIN Premier LTX still stops shorter on wet roads than leading competitors' new tires. Read our bloggers' posts as they talk about their #FirstCarMoments plus get a chance to win a set of Michelin tires!
Read more
Formica® Reviews & Sweepstakes
Formica® Brand will change your kitchen or home space from functional to hangout worthy. Read our bloggers' reviews and follow them as they transform their favorite spaces using the The Formica® Laminate Jonathan Adler Collection.