Midnight Bucatini with Bacon and Eggs
Syndicated
I was in Santa Barbara recently, to both attend and speak at the Edible Institute, an annual meeting involving scores of regional magazine publishers who produce the outstanding Edible Communities publications. Our meetings and conversations were, as they always are, inspiring and invigorating—it's thrilling to be in the presence of so many people who have devoted their lives and careers to issues of local food, food justice, and sustainability. After three nights away from home, I flew back to the east coast, and at ten o'clock on Saturday night, Susan picked me up at JFK. I had been in the air for hours, wedged into a tiny blue vinyl seat; by the time I touched down, I was exhausted, and so I dozed on and off for the entire car ride home, which took nearly an hour and a half. When we walked through the front door—after the dogs calmed down, after the cats stopped having intimate relations with my luggage—I realized that I was hungry. Not hungry, but crazy hungry. Mad hungry, as Lucinda Scala Quinn would say. Famished.
Famished like it was 1996 all over again.
It was nearly one in the morning.
I'll make you something, Susan said, her eyes at half-mast. I'd already taken down our six quart soup pot from the rack—stock pots just seem too big for late night cookery—and filled it. I salted the water heavily, and minutes later, it was at a full, violent boil.
You sit, I said to Susan, pulling over the little bentwood modern chair where she usually perches while I cook dinner on normal nights.
I can't believe you're doing this, she yawned. Are you really that hungry?
After six hours hurtling through the air in a metal tube, I was standing in the kitchen and browning cubed slab bacon in a big cast iron skillet until clouds of meaty smoke wafted up into the oven hood. The bucatini I unearthed from the bowels of the pantry was too long to fit into the soup pot, so I broke the rules and snapped it in half; while it boiled, I ladled out a cup or so of the pasta cooking water, and beat two eggs with a fork in a small white batter bowl.
I think I might be able to eat, Susan said, hovering over my shoulder while I lifted the pasta into the skillet, poured in the eggs and the bacon, and swirled it over and over to coat every strand with creamy goodness; I showered all of it with a strong grating of Parmigiana Reggiano, a handful of freshly cracked black pepper, and a rough chop of fresh parsley.
It was one thirty in the morning when we finally sat down at the dining room table, twirling thick coils of salty, smokey pasta around our forks; we sipped small glasses of red wine while the dogs slept at our feet.
The midnight dinners of necessity I ate alone, standing up, in my tiny Manhattan kitchen, were very good. But my late night meal with Susan, after a long ride home from the airport and three days and nights apart, was far more satisfying.
She looked up at me while she slurped her noodles.
This might be the very best thing ever, she said, sleepily. Ever.
We put our plates in the sink, went to bed, and slept until noon the next day.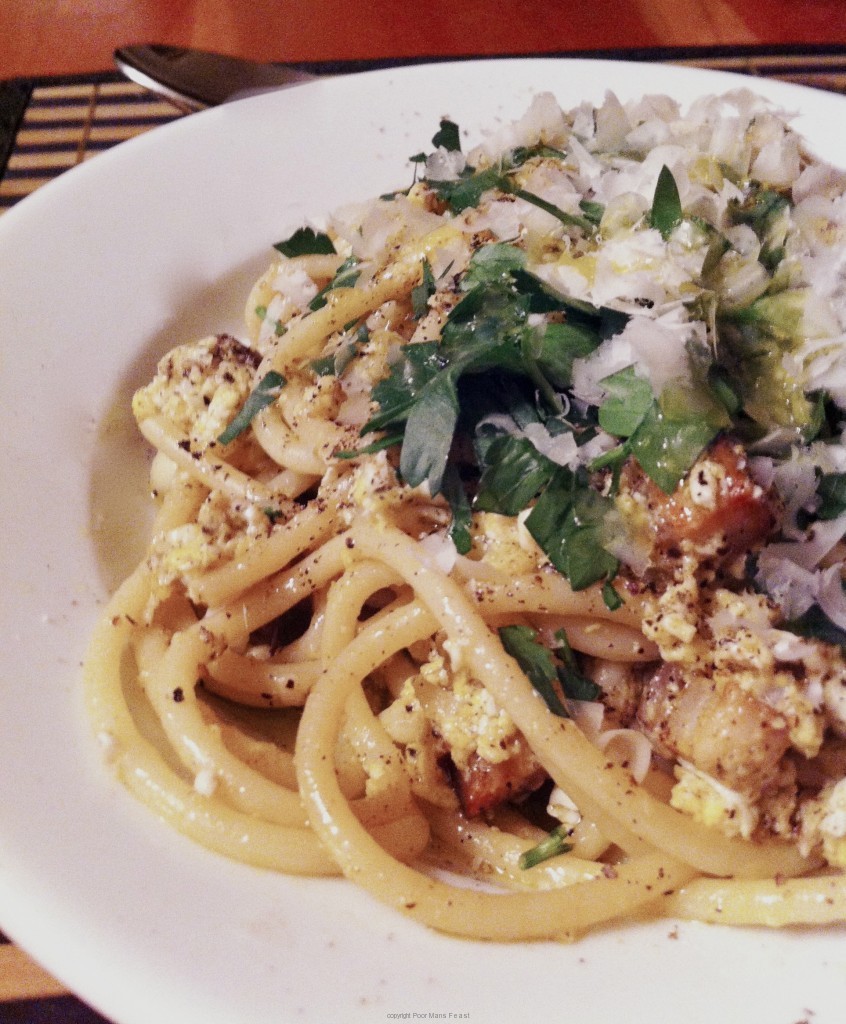 Midnight Bucatini with Bacon and Eggs
Someone once said that it is not only what you eat that makes a meal great, but where and with whom you eat it, and they might be right; circumstance does count for a lot. On the face of it, the combination of pasta, eggs, bacon, and black pepper is a known quantity; ask any Roman what they eat when they want to be comforted and odds are, a version of this dish will be mentioned. But in the right conditions—late at night, when you're starving and desperately need that combination of salt and smoke, fat and peppery warmth—it ceases being ubiquitous, and instead is utterly, mouthwateringly glorious.
Serves 2, with leftovers (which you will turn into a frittata the next day)
6 ounces bucatini
1 tablespoon extra virgin olive oil
1/2 cup cubed slab bacon
2 eggs, beaten
1/2 cup freshly grated Parmigiana Reggiano
2 tablespoons freshly ground black pepper
flat leaf parsley, chopped (as much or as little as you like; I use quite a lot)
Bring a large soup pot of salted water to a boil, and cook the bucatini according to the package instructions, stirring it frequently.
While the pasta is cooking, heat the oil in a large cast iron skillet until it just barely ripples, and add the bacon; cook until just golden brown, about six minutes or so, and use a slotted spoon to remove to a small bowl. Wipe out all but a tablespoon of fat from the pan, and keep the pan warm over a low very flame. Ladle out a cup of pasta water from the soup pot, and reserve.
Using heavy tongs, lift the pasta directly from the soup pot to the skillet, and toss with the browned bacon. Slowly pour in the beaten egg, and combine it well, adding a tablespoon or two of reserved pasta water (or more, if necessary). Shower with cheese and black pepper and toss again, judiciously adding more water if the pasta seems too dry (the consistency should be slightly creamy). Sprinkle with parsley, and serve immediately, with more cheese, if desired.
Elissa Altman, PoorMansFeast.com, winner of the 2012 James Beard Award for Best Individual Food Blog
More Like This
Recent Posts
by PoorMansFeast
We asked our bloggers to share their tips for staying confident even when having a cold sore. Check out their posts and learn how you could win a $100!
Read more
Mornings with Jimmy Dean
Busy Moms start their day right with Jimmy Dean breakfast sandwiches for their families. Read our bloggers' reviews and get a chance to win $100!