Moonlit Night Bento
This was Miss Girl's last bento lunch before Halloween! The picture it a little bit sloppy, but the lunch wasn't too bad.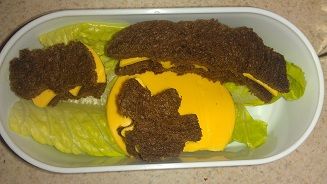 The top tier has a cheese moon, two bat sandwiches of different sizes, and a witch-on-broomstick sandwich.
The bottom tier has a few carrot pumpkins, some broccoli, and a few little apple ghosties. She had the rest of the apple cut into sticks for a snack.
She actually watched me make this one and liked it..not sure how much got eaten, though.
Recent Posts
by The Lady Butterfly
We asked our bloggers to craft some recipes from the different Success® Rice flavors and tell us about it. Check out their ideas and you could win a $100 Visa gift card!
Read more
Lean Pockets have no artificial flavors, a good source of protein & have 100% real cheese. Read our bloggers posts where they will tell you their guilt free experiences with Lean Pockets. Plus get a chance to win $100!
Read more