Mummydog and Tombstones
Miss Girl's third Halloween-y bento was a little sappy, but she was pleased with it so that's what matters!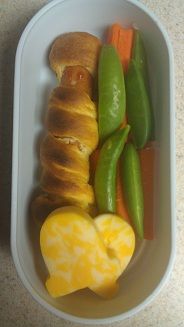 The top tier contains a veggie mummydog with ketchup eyes (and a little cup of ketchup on the side for dipping), some snap peas and carrot sticks, and two chunky Colby Jack tombstones.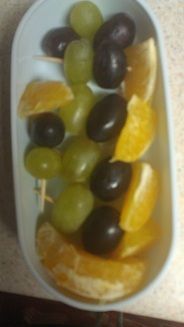 The bottom tier has Halloween-colored fruit kabobs...black and green grapes and orange sections. Where there wasn't room for another kabob but there was enough room that things might move around, I just stuffed in a few more loose pieces of fruit.
All the toothpicks made it back, so she knows not to eat those! A couple orange sections and half a tombstone came back too.
Related Posts
More Like This
Recent Posts
by The Lady Butterfly
Hearing your baby laugh is the most amazing sound. Discover why baby laughter is so important, your baby's own Baby Laugh Index™, and much more at www.babylaughindex.com.BlogHer and Bright Starts™ asked 10 bloggers to share what kind of laugh their kids have and to try out one of these fun toys: the Jungle Fun Ball Climber™, the Hide 'n Spin Monkey™, or the 3-in-1 Step 'n Ride Lion™ . Check out their posts and learn how you could win one too!
Read more
Dixie Ultra Moments® Reviews
Celebrate Life's Special Moments with Dixie Ultra Moments®. They're strong enough to hold up to any gathering or party. Go ahead. Celebrate with style and strength!