Mummydog and Tombstones
Miss Girl's third Halloween-y bento was a little sappy, but she was pleased with it so that's what matters!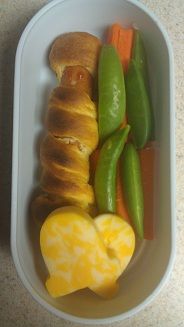 The top tier contains a veggie mummydog with ketchup eyes (and a little cup of ketchup on the side for dipping), some snap peas and carrot sticks, and two chunky Colby Jack tombstones.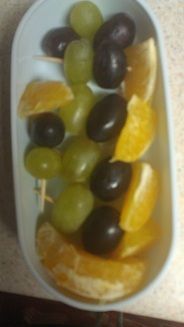 The bottom tier has Halloween-colored fruit kabobs...black and green grapes and orange sections. Where there wasn't room for another kabob but there was enough room that things might move around, I just stuffed in a few more loose pieces of fruit.
All the toothpicks made it back, so she knows not to eat those! A couple orange sections and half a tombstone came back too.
Comments
More Like This
Recent Posts
by The Lady Butterfly
From wipes, to bleach to clean up spray, Clorox covers all your clean, sick-free home needs. See why our bloggers use Clorox products in their home plus get a chance to win $100!
Read more