My first public cooking demonstration
I did it! I survived my first public cooking demo! Folks, I am hooked! You already know that I love to talk about veganism through the written word – whether here on the blog, in my Small Bites column or in my upcoming book – and through individual coaching. Yesterday I found myself chatting up a storm, espousing the virtue of quinoa, kale and all good things vegan at a local farmers market and I can't wait to do it again!
We set the table up with promo cards, provided by The Journal News
and technology to show my blog and to encourage folks to sign up to receive posts via email.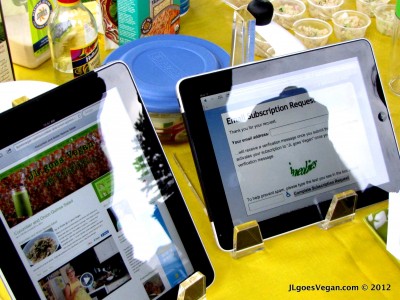 Oh! And the food!
I set up the prepared Cucumber and Onion Cucumber Salad and sliced and diced for the demo.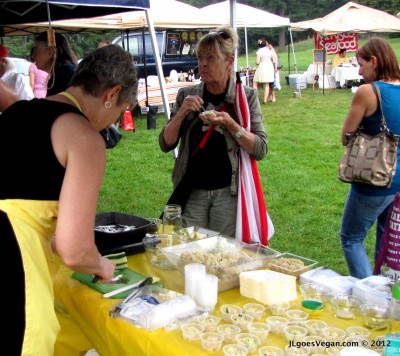 Then I spent three hours passing out samples and recipes and chatting up the friendly folks at the farmers market!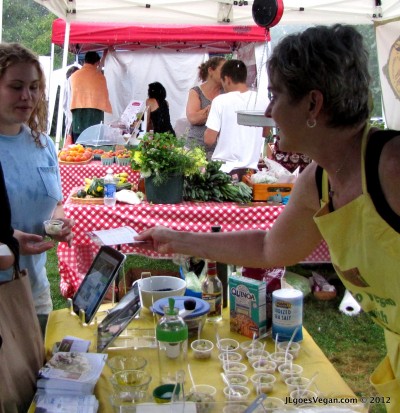 Here are the top three favorite things I heard yesterday:
"Do you do catering?" (No, but I might consider it!)
"Do you offer cooking classes?" (Yes!)
"I think it's some kind of wonder food" (Dave, my husband, referring to quinoa while passing out samples when I was getting my photo taken. He's right!)
I had a blast and want to thank Liz Johnson of The Journal News / LoHud.com for making it happen and Maria Reina for being my "throwdown" partner and – more importantly – a mentor who guided me on how to prep for a food demo. A special thanks to Jennifer, the farm market manager at John Jay Homestead, for being so willing to host us (and for inviting me back!) and to Marian and Larry of Amawalk Farm for the delicious cippolini and bunching onions.
JL Fields, a vegan lifestyle coach, writes the blog JL goes Vegan and writes/edits the community blog Stop Chasing Skinny.
Recent Posts
by JL Fields