My Inked Life: An Update (Or, Part 2 of 'On Tattooing')
A few months ago, I wrote a post on Blogher called 'On Tattooing', which was my first exploration into how I got started on my current tattoo project. Eleven months into this I'm pleased that I can look back and see the progress of my full-back tattoo through the brief bit of journaling and photography that I've done (well, clearly other people did the photography, but you know what I mean). This has been an interesting adventure – one I could not have imagined back in January when I started. Here's what things look like as of early October (I've only had one sitting since):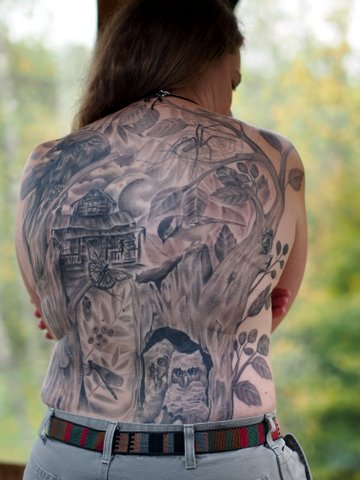 Done? Nope. Almost, though. In addition adjusting the shading, Joe and I have talked about adding root structure to the trees. I was perfectly happy just having the beginning of the roots going down my lower back, but Joe wanted to extend them down my hips. Seeing as we're now bartering work, he pretty much gets his way (which isn't much of an issue – we're pretty like-minded regarding the work he's doing). And besides, I'd rather work with someone who's willing to give me their opinion than someone who just blindly does whatever I ask (that's for pretty much any setting, I guess). Not getting input from the people I'm working with makes me uncomfortable, bordering on nervous. I mean really, what the hell do I know?
_______________________________________
Cynthia Menard
Withywindle Blog
Recent Posts
by Cynthia M
Most Popular
We asked our bloggers to craft some recipes from the different Success® Rice flavors and tell us about it. Check out their ideas and you could win a $100 Visa gift card!
Read more
Lean Pockets have no artificial flavors, a good source of protein & have 100% real cheese. Read our bloggers posts where they will tell you their guilt free experiences with Lean Pockets. Plus get a chance to win $100!
Read more