My Name is Margaret and I'm a Utensilaholic
Some of you caught my juxtapositional photo the other day when I showed you a container of nasty ass food on my brand new counter in my L.A. condo. That counter was the result of a recent kitchen remodel.
Yes, in spite of living in two different cities, I held my breath, gave my keys to the contractor, left LaLa Town, and hoped for the best. Luckily...
BEFORE: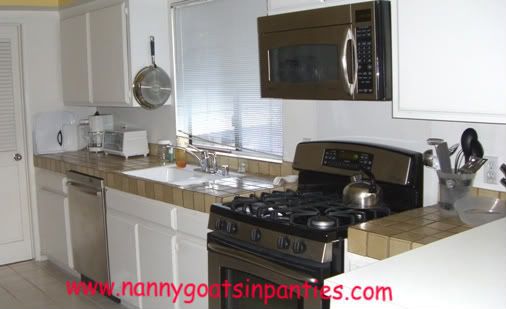 AFTER:
However, I returned to L.A. on December 30 with a nasty cold (as I pictorially mentioned in this post) and had 24 hours to unpack dishes, wash it all, refill and reorganize the cabinets and clean all the dust from the remodel.
Why does remodel dust feel the need to travel throughout the whole house and cover EVERYTHING, even when you cover it with all that plastic stuff? You know that thin sheet stuff you get at the hardware store to prevent the dust covering EVERYTHING? You know... this stuff?
Anyway, I was rushing around because I was hosting a New Year's Eve Party. While unpacking, I realized I had these: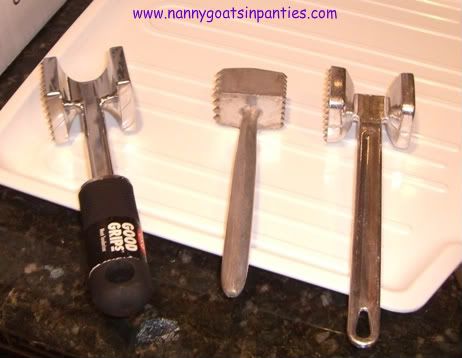 It's moments like this that make you realize things about yourself. I already know that I can stand in front of the giant utensil wall at Bed Bath & Beyond like a humble worshipper in awe and gaze at the hundreds of goodies before me, completely mesmerized and overwhelmed. But what I did not know was how many times I'd be taken in by a meat pounder, when I don't recall ever even using one.
Also, my taste in meat pounders has clearly changed over time. (Those who wish to take this sentence out of context and make a juvenile joke out of it, may do so in the comments section.)
In any event, I obviously have a problem. But the yellow pages do not produce a very long list of Meat Pounders Anonymous groups, or Utensils in General Anonymous groups, for that matter. So if you have a local chapter in your area who is willing to take on a new member remotely, I am in need of a sponsor.
ADD A COMMENT
Recent Posts
by nannygoats
Most Popular
Chateau Ste. Michelle ALWAYS delivers remarkable wine experiences. We asked our bloggers to try Chateau Ste. Michelle wine and share the story behind their perfect sip. Read their reviews plus get a chance to win $100!
Read more
Latest comments
The enamel of baby teeth and new adult teeth is vulnerable to damage. Help protect your child's teeth for years to come by using ProNamel 6-12 Years Toothpaste. Read our bloggers' posts and see you should start your kids with using ProNamel 6-12 Years Toothpaste plus get a chance to win $100!
Read more