My Parenting Advice for Princess Kate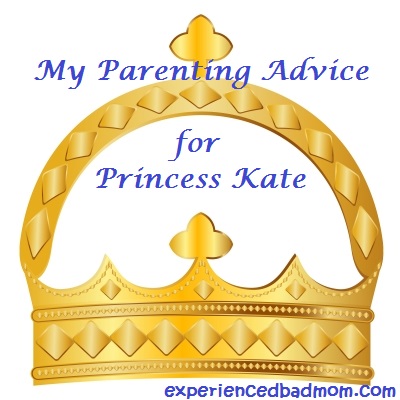 Princess Kate is due any day with the future heir to the British throne. Which means she is probably desperately waiting for this post from me chock full of my parenting advice!
So, dear Princess, here is what I would like to share:
1. It's so helpful to surround yourself with other new moms. If none of your friends have babies, or that silly Buckingham Palace won't let them visit, find some online support at places like Scary Mommy.
2. Breastfeeding hurts. Maybe after a couple weeks those suckers will toughen up, but then again maybe not.
3. I think multiple great fitting, comfortable nursing bras are worth their weight in gold. Or British pounds. Or Euros. Whatever.
4. Schedule Date Night. Maybe Auntie Pippa or Grandpa Chuck can watch the baby while you and William catch a flick.
5. Stay in your jammies for the first two weeks if you want to. Or if that drives you crazy, make sure you get dressed in clean clothes every morning. In other words, listen to yourself and do what makes you feel good. Take care of yourself!
6. Ask your Mom/Mum to write thank you notes for the baby gifts. My mom did this for me with my first and it was TERRIFIC.
7. Don't be surprised if this parenting thing is hard. (I've heard there are easy babies out there, but I never got one.)
8. Try not to stress about developmental milestones. If the baby smiles at 6 1/2 weeks vs. 6 weeks, then the baby is fine.
9. You will get peed on, pooped on, vomited on, and spit up on. All of this officially makes you a mother.
10. The days will feel long but the years will feel short. Before you know it, the baby will be entering kindergarten and then college. So take time to smell that sweet baby's head, wrap that little hand in yours, and just enjoy your new blessing.
Readers, what advice do you have for Princess Kate?
Image courtesy digitalart/Freedigitalphotos.net.
Comments
More Like This
Recent Posts
by Experienced Bad Mom
Our bloggers use the new ARM & HAMMER™ Truly Radiant™ Collection for a radiant smile. Read their posts where they share a few of their real-life experiences and advice on how to feel radiant day-in and day-out. Plus get a chance to win a $100!
Read more
Most Popular
on Pop Culture
Recent Comments
on Pop Culture